Taps Coogan – January 4th, 2020
Enjoy The Sounding Line? Click here to subscribe.
The results for 2020 are in and the Bank of Japan (BoJ) remains the Pound-for-Pound World Champion of monetary stimulus. As the following chart reveals, via Win Smart, the BoJ's balance sheet surged from slightly over 100% of GDP at the start of 2020 to nearly 130%. The developed world's other major central banks, the Fed, the ECB, and the Bank of England (BoE) aren't even close.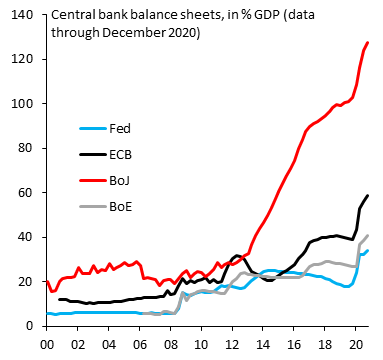 While the dollar value of the Fed's balance sheet is slightly larger than the BoJ's, relative to each country's GDP, the BoJ monetized roughly as much debt (and stocks) in just 2020 as the Fed's entire balance sheet.
Ever since Haruhiko Kuroda took over the reigns at the BoJ in 2013, the institution has gone on the greatest Keynesian monetary experiment in history.
The result is that, despite zero/negative benchmark interest rates and monetizing roughly 100% of GDP, Japan's GDP was lower in 2019 than it was in 1996 (when measured in US dollars). GDP fell even further in 2020.
Would you like to be notified when we publish a new article on The Sounding Line? Click here to subscribe for free. Also, please consider sharing this article so that we can grow The Sounding Line!