Taps Coogan – September 16th, 2021
Enjoy The Sounding Line? Click here to subscribe for free.
As the following chart from Gregory Daco of Oxford Economics reveals, only 9% of US manufacturing sub-sectors are currently in contraction. That is slightly higher than the readings from earlier this summer, which were the best readings since 1997.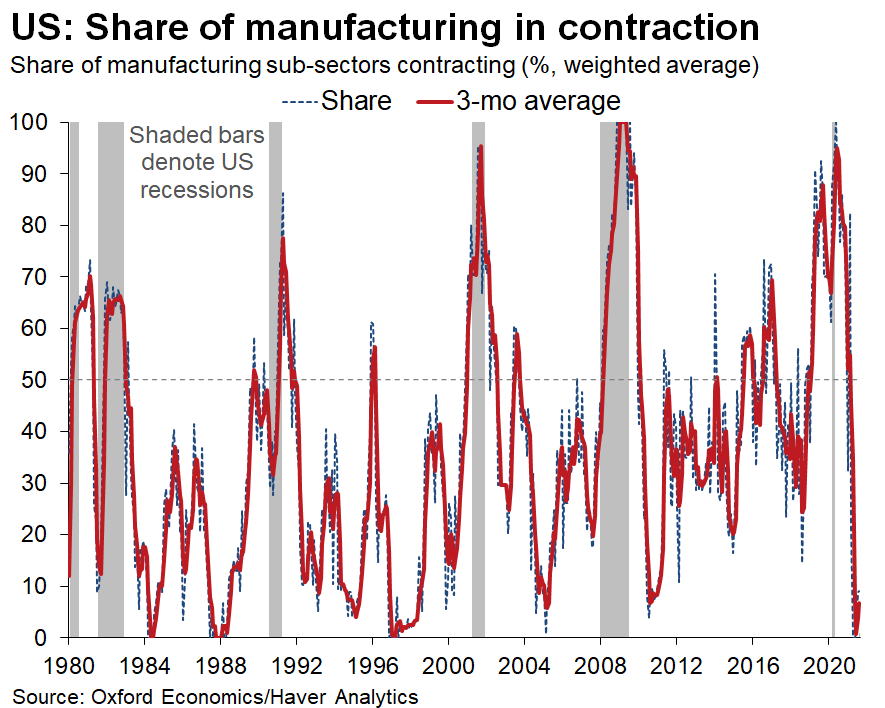 With consumers still spending money like it's free (which it is), manufacturers of pretty much everything are seeing the swiftest recovery from a recession in memory. The only major sector which is not expanding is motor vehicles and parts, which is struggling due to parts shortages, not a lack of demand.
It's hard to imagine this sugar high lasting much longer, but how quickly we crash back to Earth remains to be seen. Remember, there is $4.5 trillion of additional stimulus spending split between two bills that are snaking their way through Congress. That's on top of the $3+ trillion of 'normal' deficit spending we're likely to do this year. Just two years ago a $1 trillion deficit was considered problematic.
Would you like to be notified when we publish a new article on The Sounding Line? Click here to subscribe for free.