Submitted by Taps Coogan on the 18th of March 2017 to The Sounding Line.
A global sovereign debt crisis is looming. Nearly every developed country and many emerging markets have seen dramatic increases in central government debt (aka sovereign debt) since 2000. Of the G8 countries (Canada, France, Germany, Italy, Japan, Russia, the UK, and the US) and China, only Russia has seen its national debt decline in relation to its economy since 2000 (here).
Combined, the largest 50 countries in the world owe nearly $65 trillion. That is a staggering 90% of their combined GDPs! Such a figure is unprecedented. The majority of the 50 largest economies in the world have sovereign debt over 50% of GDP and eight have debt over 100% of GDP including two of the three largest economies in the world: the US and Japan.
When debt grows faster than an economy, it means that the debt is not being invested in a way that sustainably grows the economy. Only when debt results in economic growth that exceeds the growth of debt, does it add to the long term economic growth of an economy. When debt grows faster than an economy and becomes larger than the entire yearly output of the economy (the GDP), a completely unsustainable situation develops. Japan, Greece, Portugal, Italy, Belgium, Cyprus, the US, and Spain all have debts larger than their economies.
How much of this debt are you personally on the hook for?
If you live in one of these 50 countries, your government has borrowed enormous amounts of debt in recent years in the hope that you, the taxpayer, will be able to pay that debt off. The following chart shows sovereign debt on a per capita basis. Looking around the world, Japan has the most sovereign debt per capita. If you live in Japan, you are responsible for over $70,000 of government debt. A family of four in Japan owes $280,000. America has the second highest sovereign debt per capita. Every American owes over $65,000 thanks to government spending. Globally the average person owes a hefty $12,700.
These debts have accumulated in an era of extremely low interest rates. Since the 2008 financial crisis, interest rates have fallen around the world and remain at or near historic lows. This has kept the expense of servicing these enormous debts low, hiding their size, and enabling even more borrowing. However, even with exceptionally low interest rates, the cost of servicing sovereign debt is rising and becoming startlingly high in countries with slightly higher interest rates. The following chart shows the cost paid per person to service the sovereign debt of each country.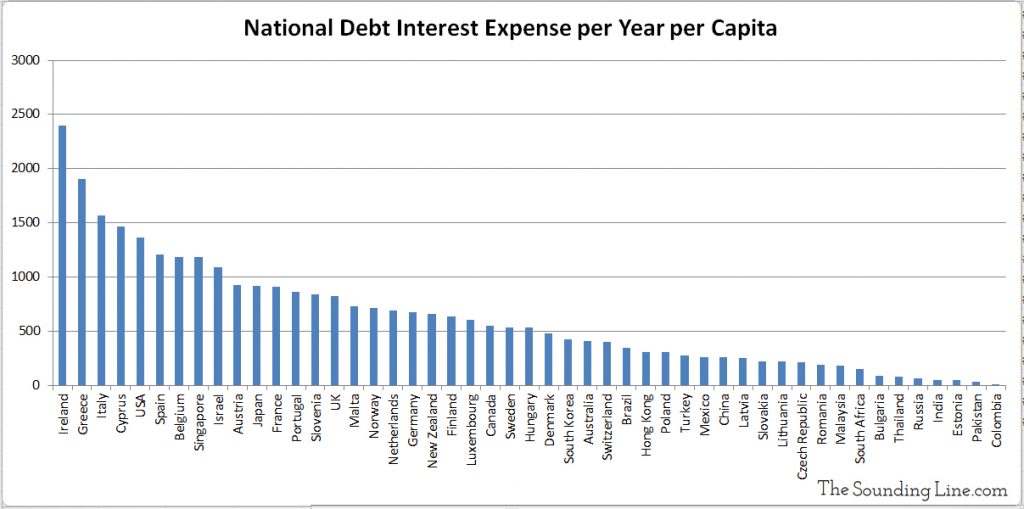 Ireland pays more than any country in the world, per capita, to service its national debt. Ireland pays $2,400 per person per year to service its debt, or $9,600 per year for a family of four. Not far behind, Greece pays about $7,600 per family of four to service its debt.  That amounts to 41% of the average household income in Ireland and Greece. Keep in mind that this expense is in addition to the cost of running the government. If the governments of Greece and Ireland wanted to stop accumulating more debt, they would need to collect taxes equal to these amounts from every individual every year in addition to the taxes they already collect to pay for normal government services. This would bankrupt the economy. Thus politicians choose to borrow yet more money to service the debt instead of raising taxes further. This may buy time but it makes the problem even worse.
If interest rates rise even modestly, many of the countries on this list will see the cost of their debt spiral out of control. Quite quickly the need for more debt will outstrip investor's willingness or ability to lend and a crisis will be all but guaranteed.
The problem with constantly pushing problems off to the future is that, in due time, that which was the future becomes the present. When it does, it is already too late to prevent a calamity.
P.S. Follow us on Twitter at The Sounding Line @TapsCoogan. We have also added email distribution for The Sounding Line. If you would like to be updated via email when we post a new article, please click here. It's free and we won't send any promotional materials.