Taps Coogan – July 5th, 2021
Enjoy The Sounding Line? Click here to subscribe.
As the following chart via Jeroen Blokland highlights, China's composite PMI Index has fallen from 53.8 in May to just 50.6 in June. A number higher than 50 denotes growth, a number lower than 50 denotes contraction.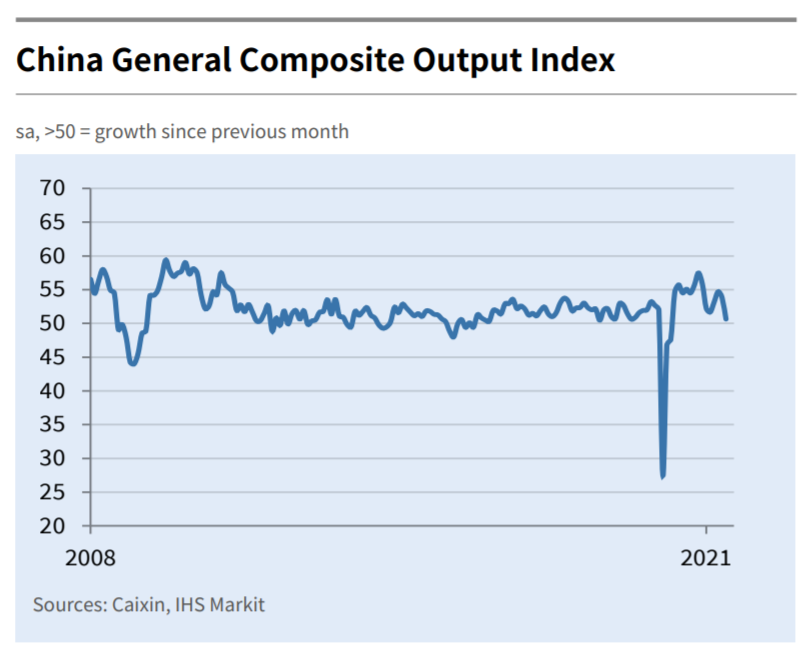 The composite index above is a combination of the service sector PMI, which has fallen to just 50.3, and the manufacturing PMI, which has fallen to a more robust 51.3. Keep in mind that while these are not technically 'Official Government' numbers, they should be taken with a grain of salt.
By all accounts, China's economy is slowing as the peak of its reopening activity fades, spending fueled by stimulus checks from the US starts to wane, and it deals with a Covid outbreak in industrial and shipping cities like Guangdong leading to long shipping delays and port congestion.
Meanwhile, China's population has begun to shrink and Chinese regulators are engaging in a credit tightening campaign in a bid to tamp down on inflation as China's manufacturers digest massive commodity price increases.
Would you like to be notified when we publish a new article on The Sounding Line? Click here to subscribe for free.