Taps Coogan – September 9th, 2021
Enjoy The Sounding Line? Click here to subscribe for free.
The China's second largest real-estate developer, Evergrande Group, has been downgraded yet again, deeply into junk territory, with Fitch noting that "the downgrade reflects our view that a default of some kind appears probable."
Evergrande is not just any company. It's the most indebted company in the world, by a factor of almost two. Evergrande's souring $305 billion pile of liabilities, an amount of debt similar to the national debt of Portugal, is leading to boarder contagion fears in the Chinese junk bond market and comes fresh on the heals of Chinese Premier Xi Jinping's widening crackdown on private tutoring companies, video game companies, tech companies, foreign listed companies, media companies, the wealthy, celebrities, etc…
The net result is that Chinese junk bond yields have surged back to levels last seen at the peak of the Covid pandemic lockdown back in March 2020 when the entire global economy was in freefall and there was no light at the end of the tunnel.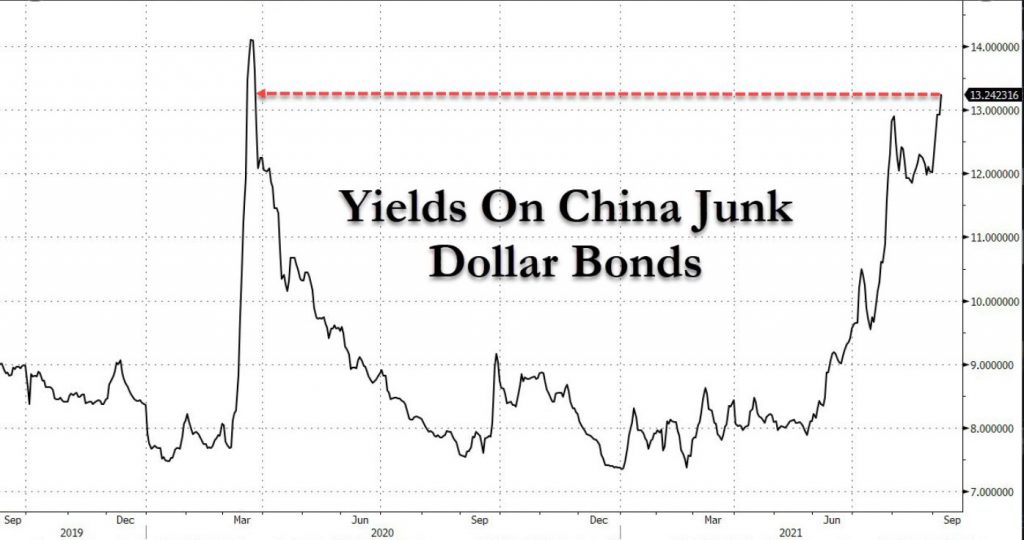 Remember when defaults in China were unheard of? Now it's staring down the barrel of potentially one of the largest corporate default in history.
If you are still adhering to the China narrative of the 2000s and 2010s, it's time for a reality check. Regardless of what happens with Evergrande, China is one of the most indebted economies in the world, one of the fastest aging, with a shrinking workforce population, a peaking total population, and a Marxist dictator-for-life running the show.
Would you like to be notified when we publish a new article on The Sounding Line? Click here to subscribe for free.