Taps Coogan – May 30th, 2022
Enjoy The Sounding Line? Click here to subscribe for free.
As the following chart via Acemaxx Analytics highlights, China's manufacturing PMI (purchasing manager's index) is likely to print its third monthly contraction in May, a losing streak the likes of which were only seen during the original 2020 pandemic lockdown and the Global Financial Crisis.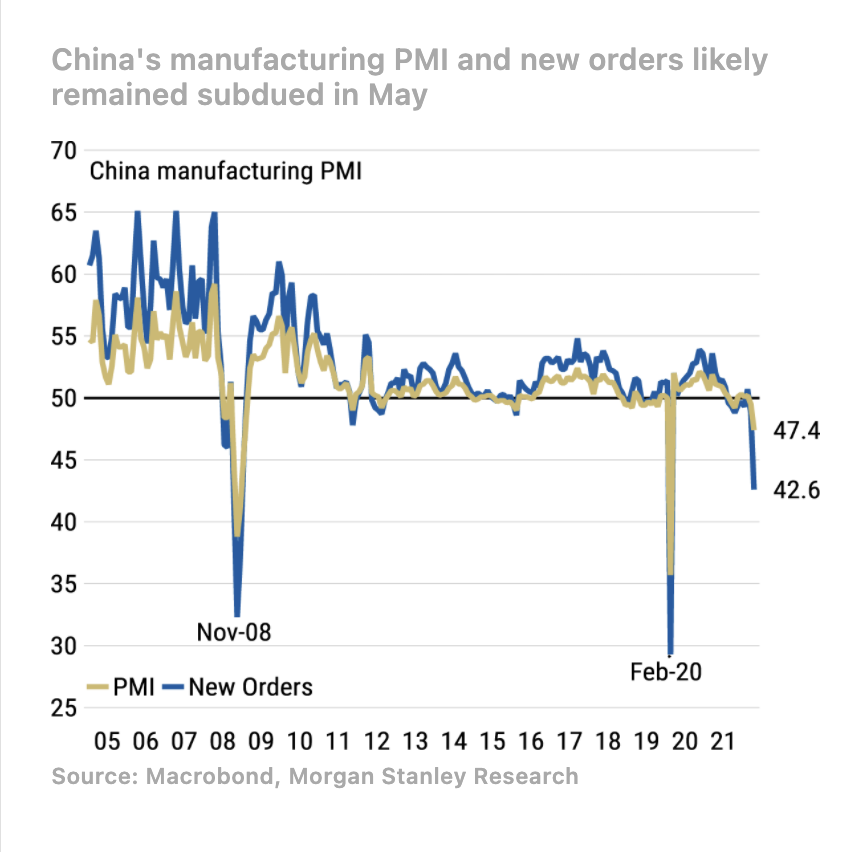 An article from the Hellenic Shipping News that we recently shared in the 'Top News Stories' column included the following anecdotes from an LNG distributor:
Li Ruipeng, a gas retailer in the northern industrial city of Tangshan, said his clients – gas refuelling stations, steel mills and zinc-coating plants – are buying half the volume of a year ago.
"Business is terrible," said Li, who owns a 10-trailer fleet to distribute the fuel. Factories have been running "severely below capacity for nearly half a year", as companies reduced output during environmental checks by the authorities and for pollution curbs around February's Beijing Olympics, followed by the COVID lockdowns, Li said.
The already-low odds of the Chinese government officially acknowledging what is obvious – that China is currently in a recession, are zero given that Xi Jinping is angling to get appointed Chinese Ruler-for-Life later this Fall.
With China now ending most of its lockdowns, some sort of recovery is expected, but China's glory days are over.
Would you like to be notified when we publish a new article on The Sounding Line? Click here to subscribe for free.