Taps Coogan – August 17th, 2023
Enjoy The Sounding Line? Click here to subscribe for free.
China has ceased to published its youth (16-24 year old) unemployment rate as the figure surges higher, as the following chart from Bloomberg highlights.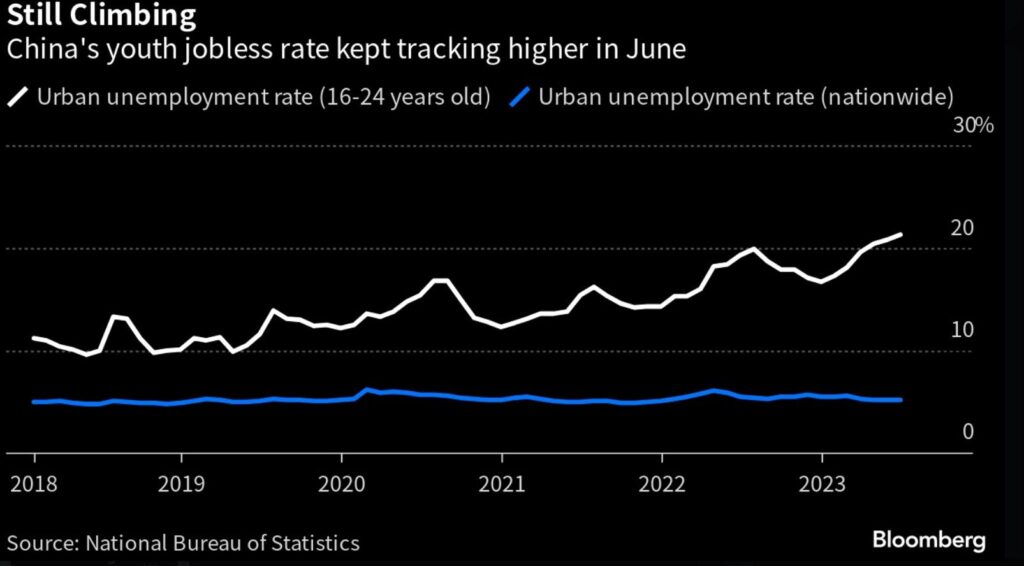 The move comes after the June figure, the last to be released, hit 21.3% and drew considerable international attention as a sign of economic weakness and political vulnerability.
It comes as part of a general crackdown on 'negative' economic commentary, which has gone as far as a direct repudiation of a bearish banking sector outlook published by Goldman, and highlights the increasingly narrow room for discourse in China about anything of importance.
That crackdown also comes as China is trying to make a transition from a middle income country to a high income one.
Simply put, that transition is doomed. 'Soft and fuzzy' concepts such as free-speech, property rights, debate, and access to information are not only critical to businesses, investors, etc… making decisions in increasingly complicated & specialized economies, they tend to be valued by the kinds of talented people that high functioning economies need to attract and retain. At the end of the day, what highly talented and motivated person is going to want to stay in a country where they aren't even allowed to observe or discuss their own inability to find a job?