Taps Coogan – August 3rd, 2023
Enjoy The Sounding Line? Click here to subscribe for free.
The following chart, from the FT via Science is Strategic, highlights the fairly dramatic changes that have occurred for China's exports over the past year: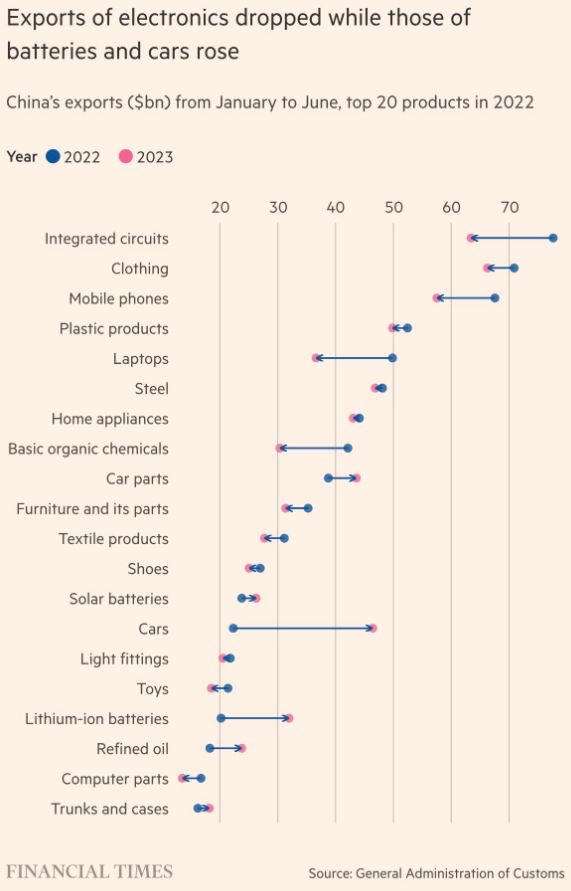 The punchline is that every category of Chinese exports has declined since last year except those related to cars, batteries, and oil. While many companies have started to pull their supply chains out of China – as we can see above – China is leveraging its dominant position in the EV supply chain to ramp up exports of cars and batteries. While they have had limited success in the US, they've found the going considerably easier in the EU… at least for now.
The auto industry is viewed as a core national security interest in many countries due to somewhat outdated experiences in World War II converting auto production towards military uses (auto production techniques are far more specialized today and would be harder to convert – component suppliers are what matter). The auto sector also happens to be a core interest of organized labor and thus tends to be politically well represented. Those factors have slowed consolidation and lead to significant brand oversaturation (Ford, GM, Toyota, Honda, VW, Stellantis, Hyundai, Renault/Nissan/Mitsubishi, Daimler, Tesla, Tata, BMW, Geely, and all their sub-brands, etc…). Baring some initial gains, the notion that China will be able to easily compete with all these existing players in their 'home' markets is dubious.