Taps Coogan – November 12th, 2023
Enjoy The Sounding Line? Click here to subscribe for free.
The following article is reposted from Statista.com: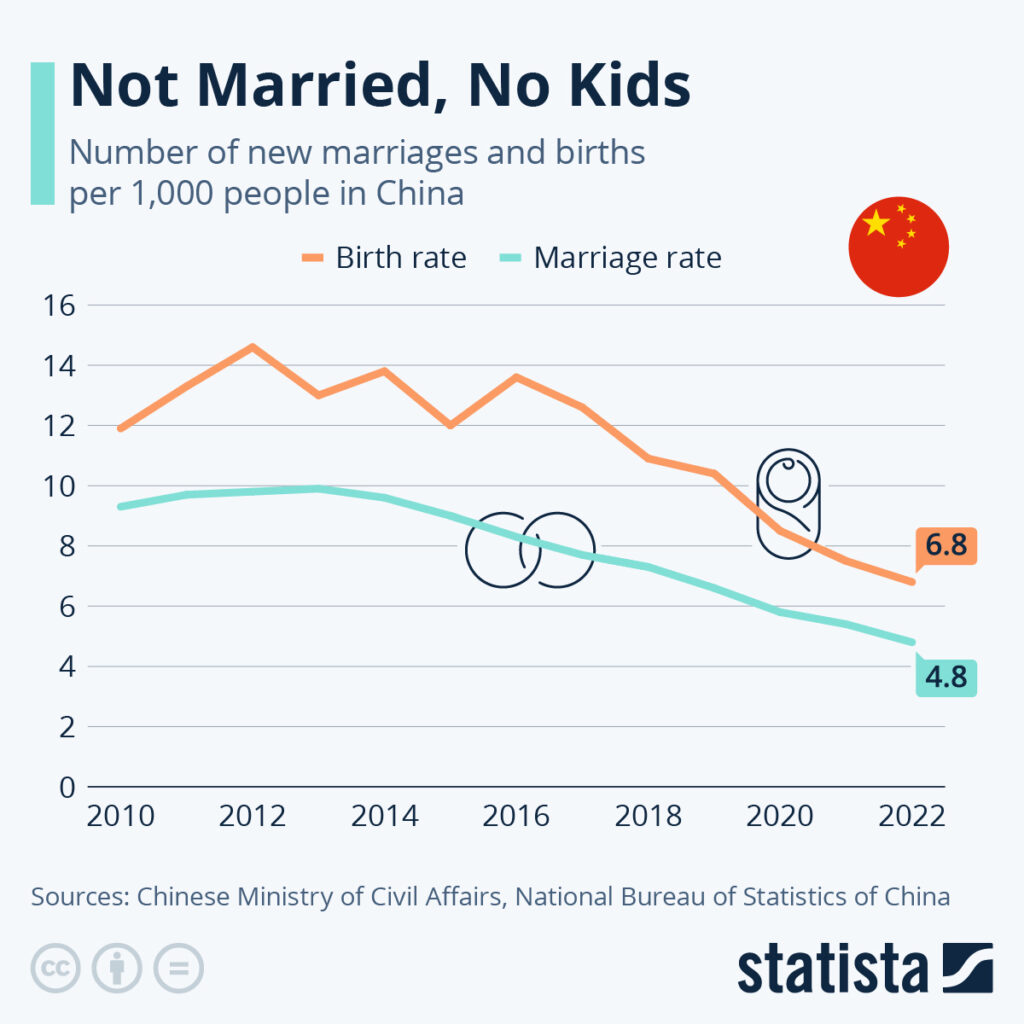 While China's Singles' Day was originally conceived as a celebration of people who are not in a relationship, the growing popularity of a lifestyle that prioritizes personal independence and self-discovery over traditional societal expectations has not come without side effects.
One such side effect has been a steep decline in marriage rates across the country. Young adults in particular are increasingly likely to delay or forgo marriage altogether, breaking away from the longstanding societal pressure to marry early. While 47 percent of newly married people in China were 24 or younger in 2005, that number dropped to just 15 percent in 2022, with nearly 50 percent of newlyweds older than 30, compared to less than 20 percent in 2005. The reasons behind this shift are multifaceted, encompassing factors such as changing gender roles, increased educational and career opportunities for women and a desire for personal fulfillment outside the confines of a traditional family structure. As our chart shows, the marriage rate in China dropped to a historic low of 4.8 new marriages per 1,000 people in 2022, down from more than double that a decade earlier.
Accompanying the decline in marriages has been the concerning trend of a falling birth rate in China, which also fell to a new low in 2022, resulting in the country's first population decline in over 60 years. The choice to remain single or delay marriage often translates into delayed parenthood or even a decision to remain childless. Economic considerations, career aspirations and the high cost of raising children in urban areas further contribute to this decline. The Chinese government's efforts to encourage childbirth, such as the relaxation of the one-child policy, have yet to yield a substantial reversal of the declining birth rate.
So while the rise of the single culture in China is emblematic of evolving social attitudes and individual aspirations, it also raises questions about the long-term demographic and economic implications for the nation. As the number of single individuals continues to rise, policymakers are grappling with the need to adapt to this changing landscape, addressing challenges such as an aging population and potential strains on social welfare systems.