Taps Coogan – August 27th, 2020
Enjoy The Sounding Line? Click here to subscribe.
The rise of the 'zombie companies' is upon us and Covid supercharging the trend. This is particularly true in negative interest rate countries like Germany, warns Daniel Lacalle, Chief Economist at Tressis Gestión and author of several books including 'Escape from the Central Bank Trap' and 'Freedom or Equality'.
Zombie companies are generally defined as companies that have been in business for at least ten years and whose debt servicing costs have exceeded profits for at least the last three years. Such structurally unprofitable companies, once a rarity, now represent a terrifying 18% of publicly traded companies in the US.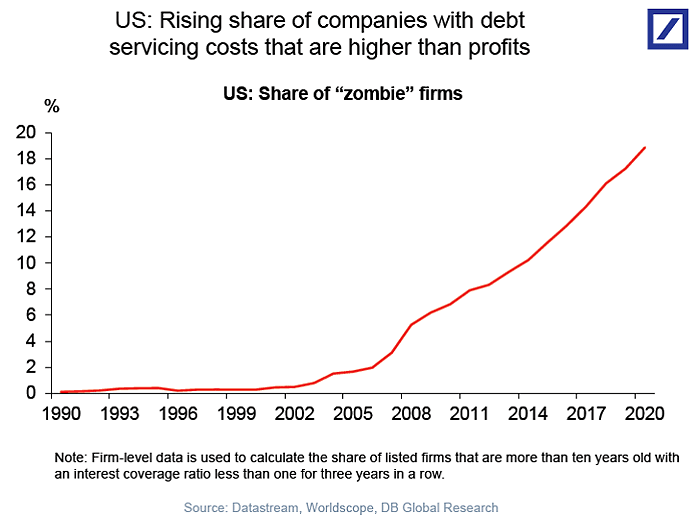 The trend is growing in Europe as well, and as Mr. Lacalle warns, endless stimulus, low interest rates, and bailouts in the wake of Covid are exacerbating the phenomenon. The end result is a stifling of innovation, lower long term productivity, and decreased economic mobility.
Some excerpts from Daniel Lacalle:
"The (German) government has given enormous levels of subsidies to keep companies that had problems in 2018 and 2019, before the pandemic, to keep them alive…"
"Huge transfers of public money go to companies that… don't allow a certain level of creative destruction, which is very important for progress…. The rise of Zombie Companies, which is a big problem in the European Union, is doing three things: It's stopping innovation…, consumers end up with worse products and services, and the third problem is that these companies don't hire and invest more…"
"Something that looks quite good as a headline can be extremely damaging for jobs, for growth, and for the future development of the economy… The rise of zombie companies inevitably leads to a financial crisis when those companies inevitably become insolvent…"
"The biggest lesson for the United States is that these types of policies are relatively social at the beginning but they become the most anti-social afterwards when higher unemployment, lower growth, and lower productivity become the norm."
Another problem with larger and larger swaths of the economy being taken over by structurally unprofitable companies is taxes. Companies only pay taxes on profits and with governments running deficits like there is no tomorrow, there is simply no feasible tax plan that will come close to balancing America's budget deficits. The economy is simply insufficiently productive to support current levels of government spending. Keeping money-losing companies in business only makes the matter worse.
Would you like to be notified when we publish a new article on The Sounding Line? Click here to subscribe for free.