Submitted by Taps Coogan on the 24th of April 2019 to The Sounding Line.
Enjoy The Sounding Line? Click here to subscribe.
The following map, from the cost estimation website HowMuch.net, shows how much a household needs to earn in order to afford the median home in America's 50 largest metropolitan areas.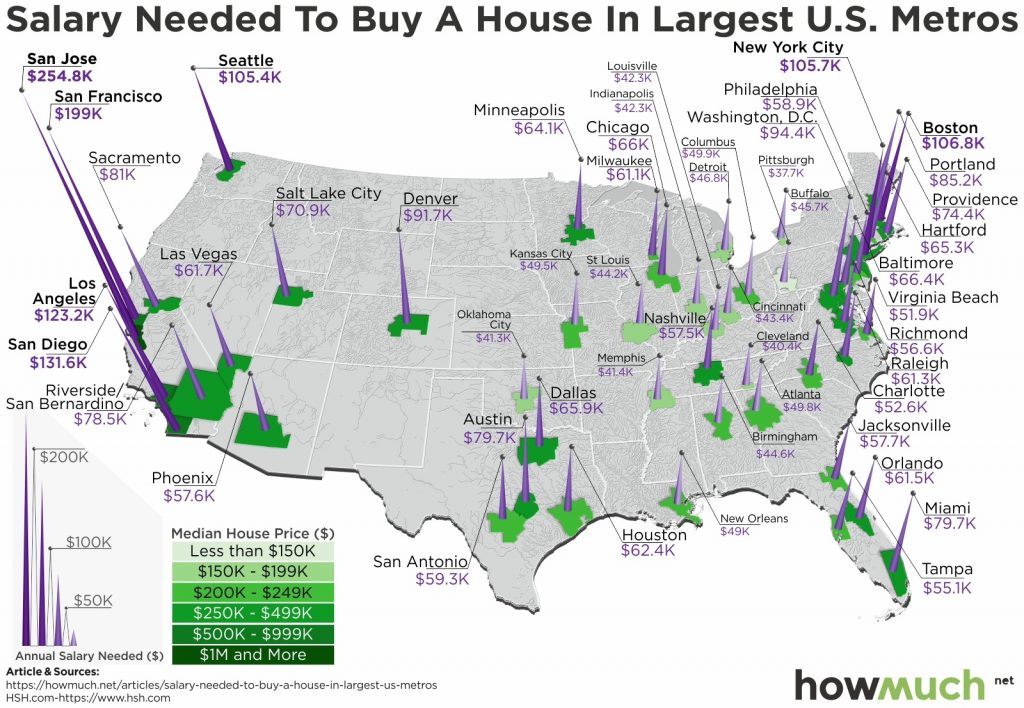 As HowMuch.net notes:
"The data for this visualization comes from the mortgage information site HSH Associates. In conducting their analysis, HSH compiled median-home price data from the National Association of Realtors, national mortgage rate data from Freddie Mac and the Mortgage Bankers Association of America, and property tax and homeowner's insurance costs data to determine the annual salary it takes to afford a home (including principal, interest, property tax and homeowner's insurance, or PITI) in the nation's 50 largest metropolitan areas. The analysis also assumed a down payment of 20%."
Four of the five most expensive cities, based on this metric, can be found in California:
1. San Jose, CA – $254,835.73
2. San Francisco,CA – $198,978.01
3. San Diego, CA – $131,640.79
4. Los Angeles, CA – $123,156.01
5. Boston, MA – $106,789.93
Northeastern cities like Boston ($106,800) and New York ($105,700) also rank among the most expensive.
Conversely, the five most affordable cities can all be found in the Mid-West:
1. Pittsburgh, PA – $37,659.86
2. Cleveland, OH – $40,437.72
3. Oklahoma City, OK – $41,335.41
4. Memphis, TN – $41,400.93
5. Indianapolis, IN – $42,288.92
Overall, HSH notes that households need to earn $61,453 per year to afford the median American home. Roughly half of America's 50 largest cities are more expensive than this and roughly half are equal to or less than the national average.
If you would like to be updated via email when we post a new article, please click here. It's free and we won't send any promotional materials.