Taps Coogan – July 26th, 2022
Enjoy The Sounding Line? Click here to subscribe for free.
The following chart, from Deutsche Bank via Isabelnet, shows net equity flows over the past year.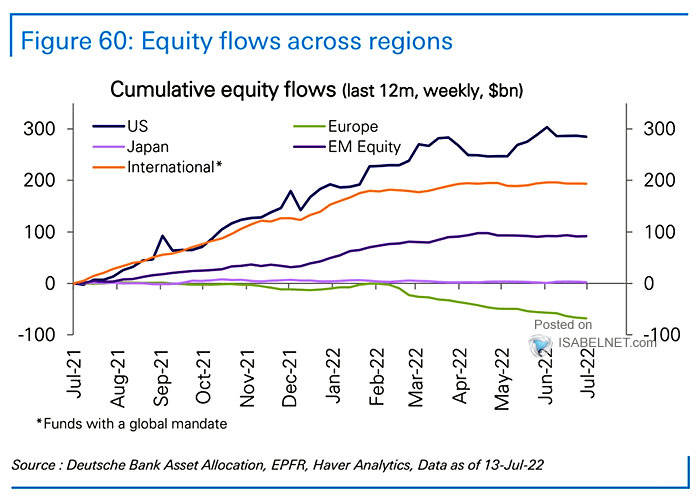 Perhaps the most notable aspect of this chart is not that US inflows are the strongest but that Europe was the only region to see net outflows.
Before blaming the energy crisis alone for this trend, remember that oil and gas prices have been nearly as high in Asia this entire time. Europe's problems run much deeper than this energy crisis.
Not only did the Eurozone working age population peak all the way back in 2009, it's overall population is now shrinking, and the block has arguably the least competitive tax and regulatory regimes among large economies. Add to the list of problems the Eurozone's monetary construction, which necessitates applying the same monetary policy to both Luxembourg and Greece.
Due to the political disposition of the EU, there is essentially zero chance of adopting the sorts of pro-growth tax and regulatory reforms needed to make it more economically competitive.
Would you like to be notified when we publish a new article on The Sounding Line? Click here to subscribe for free.