Submitted by Taps Coogan on the 25th of August 2016 to The Sounding Line.
It has been nearly a decade yet the number of people with a job in the Eurozone is still lower than before the 2008 Financial Crisis. Despite the most accommodative monetary policy in European history, €4 trillion in quantitative easing by the European Central bank, the lowest interest rates in recorded history, at least four Greek bailouts, surging government spending, and a population which has grown by six million people, the Eurozone has 297,000 fewer people employed than in the first quarter of 2008. Amazingly this is despite an extremely liberal definition of the term 'employed' which includes anyone who works as little as one hour a week.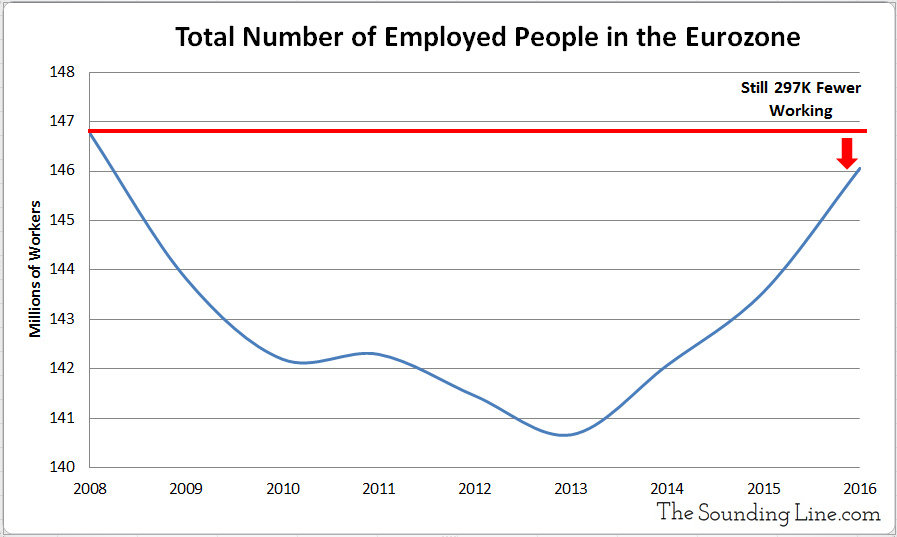 Within the Eurozone itself, there has been highly varied performance, particularly during modest recovery since 2013. Germany, France, Belgium and other northern European countries have seen employment gains while southern European countries such as Italy, Spain, Portugal, and Greece have seen even larger declines.
The overall Eurozone performance is unequivocally the worst performance in the world for a major economy in this all-important metric. Lest one think that this sort of performance is an inevitability of being a developed economy, all other major developed economies have fully recovered and surpassed their pre-crisis employment levels. Even Japan, which has been plagued by famously sluggish economic growth and whose population has shrunk by over one million people, has exceeded its 2008 employment levels and outperformed the Eurozone.
| | |
| --- | --- |
| Country | Change in Employment Q1 2008- Q4 2016 (Thousands of Workers) |
| USA | 5803 |
| South Korea | 2788 |
| UK | 2171 |
| Australia | 1328 |
| Canada | 1217 |
| Japan | 727 |
| Switzerland | 423 |
| New Zealand | 328 |
| Eurozone | -297 |
The Eurozone's dismal economic track record doesn't stop with stagnant employment. The productivity of this stagnant workforce is declining in many Eurozone countries and, as we discussed here, out of 181 countries analyzed, Greece, Italy, Portugal and several other Eurozone countries have experienced nearly the worst inflation adjusted GDP growth since 2000 in the entire world, not just among developed economies. Adjusted for inflation, of the 181 countries analyzed, Greece saw the largest absolute decline in economic activity (GDP) since 2000 and Italy saw just 1% economic growth over the period, the 4th lowest rate in the world.
When you strip away the endless myopic economic statistics, confidence surveys, data prints, and position papers, and look at the simplest economic facts (as we do regularly here at The Sounding Line), the Eurozone appears in a starkly different and unflattering light.
One must imagine that sooner or later the individuals and institutions responsible for the worst economic performance in the developed world will be held to account. That will of course require the citizens of these very countries, and in particular their economists, to recognize economic realities.