Taps Coogan – May 20th, 2022
Enjoy The Sounding Line? Click here to subscribe for free.
Enjoy The Sounding Line? Click here to subscribe for free.
The following chart, via True Insights, shows the unprecedented surge in Germany producer prices, by far the largest on record as surging energy and food prices compound supply chain problems, and all of the other issues we've been working through over the last couple of years.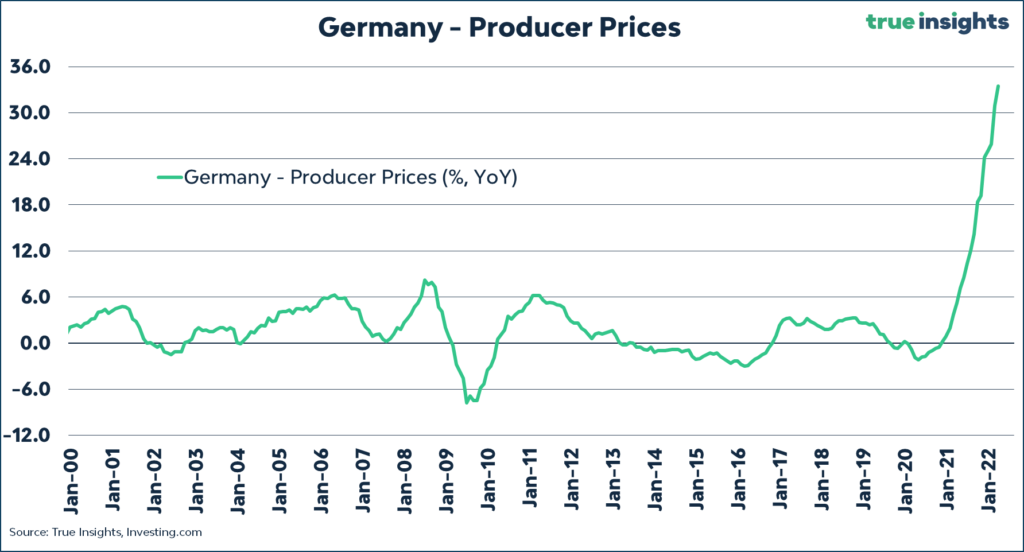 While pretty much every country's producer prices have spiked, the equivalent number in the US is 'only' up 18.6% year-over-year. The difference is German energy policy, which has become a caricature of ideological-and-irrational decision making: being overly reliant on a single supplier for natural gas and attempting to double down on that via Nord Stream 2, decommissioning its zero-carbon nuclear fleet, believing in a fantasy about 100% non-dispatchable renewables, and not doing the basic math on the resource intensity of grid-scale battery storage.
Speaking of that basic math, in 2021 Germany produced 162 TWh of wind and solar in 2021. Optimistic forecasts suggest that global battery production will increase five-fold to reach 5.5 TWh by 2030, 80% of which will go into electric vehicles. That leaves 1.1 TWh for everything else including grid-scale batteries. In other words, backing up Germany's current wind and solar production for a single cloudy windless week will consume three times the entire world's grid-scale battery production capacity in 2030.
Don't forget, those batteries also need to be replaced every ten years as they deteriorate after a certain number of charge-discharge cycles.
Would you like to be notified when we publish a new article on The Sounding Line? Click here to subscribe for free.