Taps Coogan – December 8th, 2020
Enjoy The Sounding Line? Click here to subscribe.
The following chart, via Zerohedge, shows the change in German industrial production, excluding construction, since May 2018.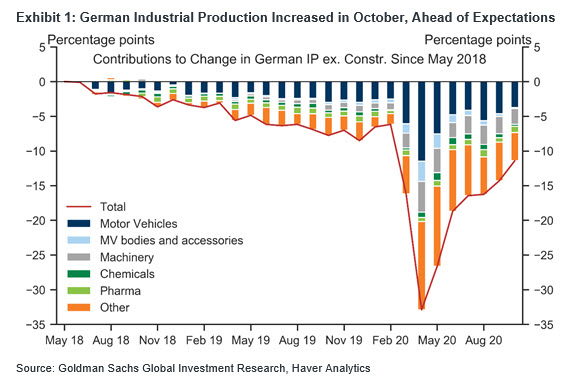 While the Covid induced plunge in industrial production in the first half of 2020 is noteworthy, perhaps the most conspicuous aspect of this chart has little to do with Covid. Every single component of German industrial production has been in contraction since May 2018. The rebound in production since the Covid lows has simply brought the indicator back to the declining trend it was on at the start of the 2020.
For years, great focus has been placed on the weak peripheral Eurozone economies and Germany's relative out-performance. Meanwhile, German industrial production has started to stagnate too. To make matters worse, Germany's working age population peaked back in 2006, it has became one of the most elderly countries in the world, and it has one of the worst dependency ratios in the world. Furthermore, its economically critical auto sector placed a series of bad bets on 'clean diesel' and hydrogen cars, leaving it lagging US, Asian, and even French automakers in the electric vehicle market.
For how much longer can Germany hold off its seemingly inevitable Japanification?
Would you like to be notified when we publish a new article on The Sounding Line? Click here to subscribe for free.