Taps Coogan – October 2nd 2020
Enjoy The Sounding Line? Click here to subscribe.
The German economic phenomenon of the last 20 years, whereby it has been essentially the only major Western economy to routinely run both trade and budget surpluses, has been built on the rapid growth of its exports. The lion's share of those exports have been directed to its European neighbors.
That growth model has come under increasing question as German exports have neared full 'achievable' market share and overall Eurozone growth has slowed to very low levels since the Global Financial Crisis. Now, Germany is seeing a massive contraction in its exports thanks to the Covid pandemic and the overwhelming majority of that contraction is coming from within Europe, as the following chart from the IIF's Robin Brooks highlights.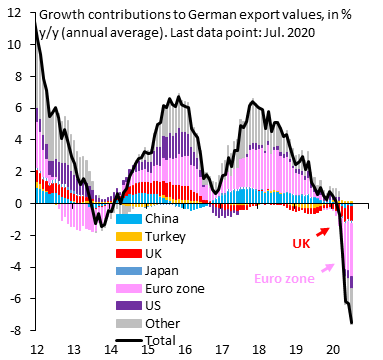 While there will certainly be some recovery in exports in the coming months, one has to wonder how Germany will generate economic growth on a sustained basis moving forward. Not only have its tax and regulatory policies become increasingly uncompetitive when compared to everyone except its Eurozone neighbors, it and most of its neighbors are about to hit a demographic wall. Germany's population is expected to peak with the next couple of years along with the rest of the EU, and those forecasts don't include the departure of the UK or the demographic effects of Covid.
Would you like to be notified when we publish a new article on The Sounding Line? Click here to subscribe for free.