Taps Coogan – November 24th, 2021
Enjoy The Sounding Line? Click here to subscribe for free.
The following chart, from Christophe Barraud, shows the relative performance of global value and growth stocks since 1980.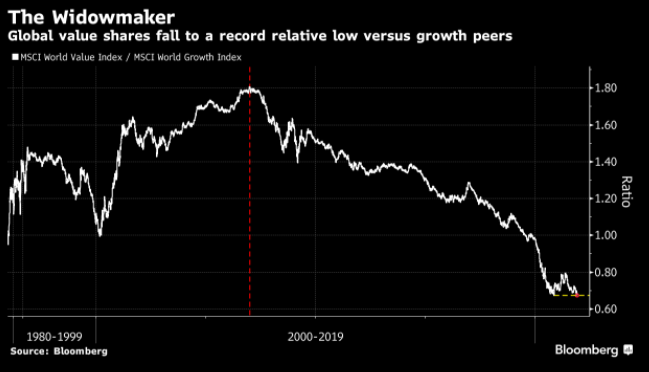 Yours truly has never been a big fan of the term 'value stocks.'
There are companies that grow and companies that don't. Wall Street politely calls the later group 'value' stocks because they trade at a discount to companies which grow quickly, as they should.
Not too surprisingly, the premium commanded for fast growing companies has been increasing since 2008 when the Global Financial Crisis kneecapped global growth and made growth a rare thing, hence 14 years of growth companies outperforming non-growth.
When baseline economic growth jumped up last summer, 'value' had a brief reprieve, its first in years. As the growth outlook has subsequently moderated amid slowing demographics, way too much debt, over regulation, and the specter of rising taxes, value is back to historic lows relative to growth.
Ultimately, to engineer an end to the 'growth' outperformance, the premium for growth has to come down. That can happen either through liquidity destruction or higher baseline growth and high inflation. What won't do it is a return to the sort of weak-but-positive 1%-2.5% GDP growth coupled with accommodative monetary policy that defined the post financial crisis era.
Would you like to be notified when we publish a new article on The Sounding Line? Click here to subscribe for free.