Submitted by Taps Coogan on the 21st of May 2019 to The Sounding Line.
Enjoy The Sounding Line? Click here to subscribe.
Here is how the $4.599 trillion of government spending in fiscal year 2018 breaks down per household: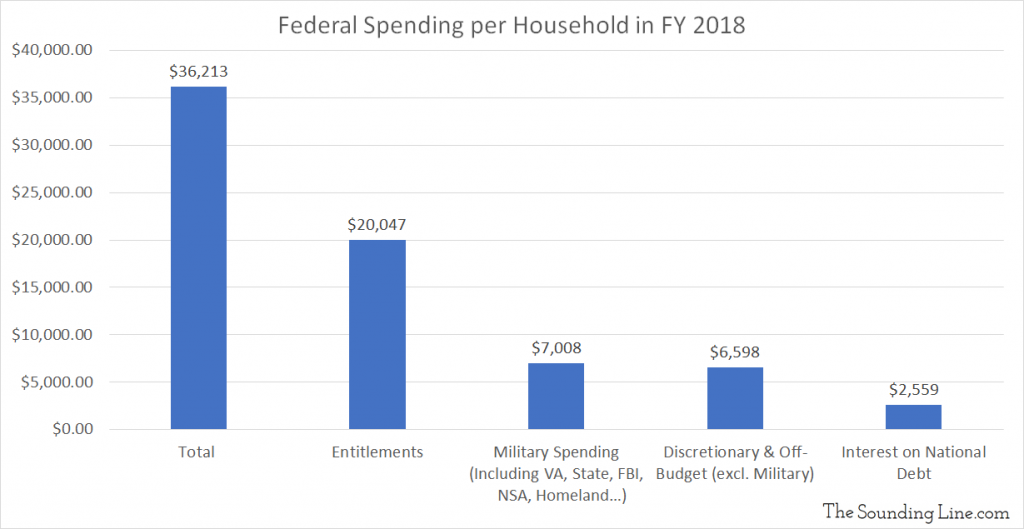 The federal government spent over $20,000 per household in the US on entitlement programs in 2018. The average poverty line for the average sized household (2.5 people) is roughly $19,120 (excluding Alaska and Hawaii). Theoretically, the federal government spent enough money on entitlement programs in 2018 that they could have instead written everyone a check large enough to bring every single household in the country above the poverty line and save some money in the process.
Obviously, the current system has not eliminated poverty. That is partly because a great deal of entitlement spending goes towards healthcare, but also because most of it goes towards people who are not necessarily poor (Social Security and Medicare are not means tested).
In 2018, the federal government spent over $7,000 per household on defense and the military, roughly $6,500 on the rest of the federal bureaucracy, and $2,559 on interest on the debt.
The federal government added $10,000 of debt for every household in the country last year.
If you enjoy reading The Sounding Line, please consider recommending it to others so that we can grow our readership. To be notified when we publish a new article, click here to subscribe for free.