Submitted by Taps Coogan on the 5th of November 2019 to The Sounding Line.
Enjoy The Sounding Line? Click here to subscribe for free.
Enjoy The Sounding Line? Click here to subscribe.
The following chart, from Statista.com, shows which countries produce the most tonnage of mined materials every year, according to data from the World Mining Congresses. The category 'Mineral fuels' includes fossil fuels such as crude oil, coal, and natural gas, as well as uranium.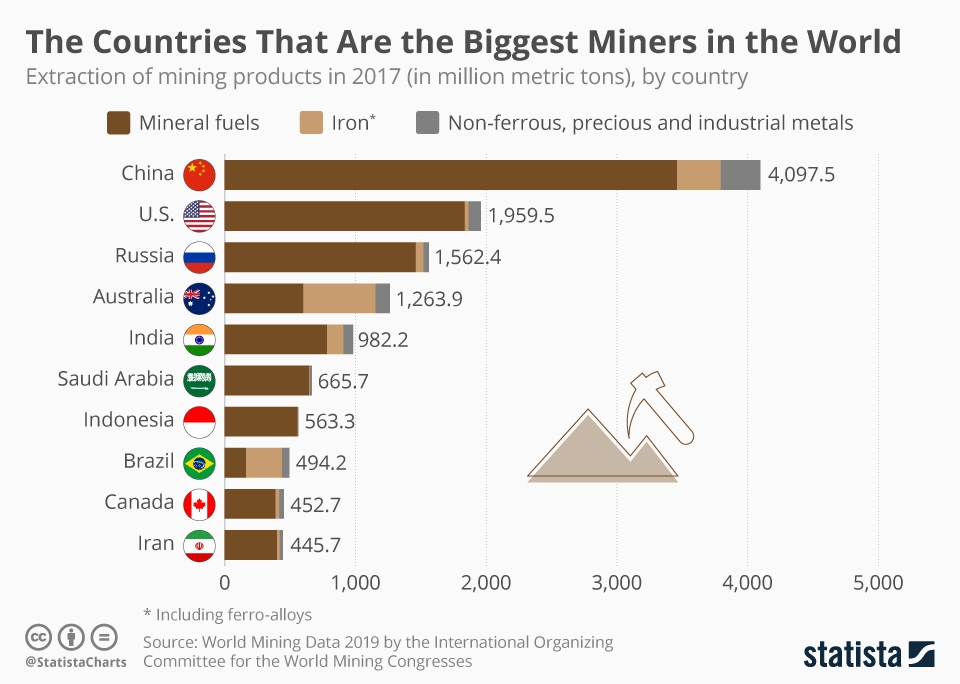 By far, the largest component of global mining is fossil fuel production (if one considers that mining). In turn, coal represents the largest component of fossil fuel production (by weight), followed by crude oil, and then natural gas.
With China by far the largest coal producer in the world, it comes out on top as the world's biggest miner, followed by the US, Russia, and Australia.
As Statista notes:
"China excavated almost 4.1 billion metric tons of fossil fuels and iron as well as non-ferrous and other metals. The biggest single contributor to this statistic was coal – listed as a mineral fuel -, of which more than 3 billion tons were excavated. The second most excavated mineral in China was iron, of which the country extracted 330 million tons."
"Similar to China, many countries in the top 10 of the world's biggest miners relied almost exclusively on mineral fuels. Saudi Arabia's and Indonesia's share of mineral fuels of all mining output were 97 percent and 99 percent respectively. Other players, like Australia and Brazil, extract between 45 and 55 percent iron (including ferro-alloys). The United States was also heavily, but not exclusively, relying on mineral fuels for its mining industry. Their share stood at 94 percent in 2017 – divided approximately equally between coal and petroleum."
According to the World Mining Congresses, every continent has seen growth in mining production since 2000, except Europe.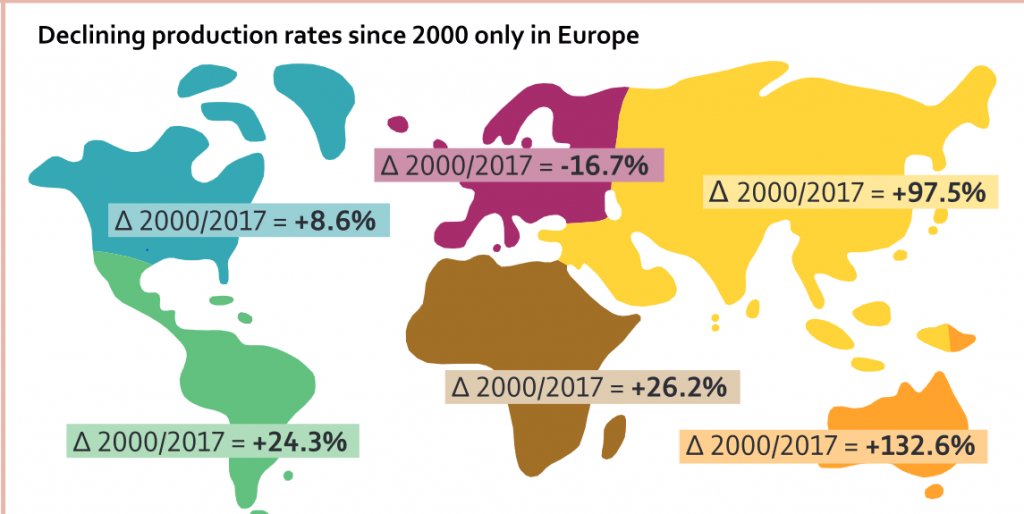 Would you like to be notified when we publish a new article on The Sounding Line? Click here to subscribe for free.