Taps Coogan – March 17th, 2021
Enjoy The Sounding Line? Click here to subscribe for free.
This is not exactly breaking news: inflation expectations are rising rapidly. The following chart, from Jeroen Blokland, puts a number on where CPI inflation is likely headed next.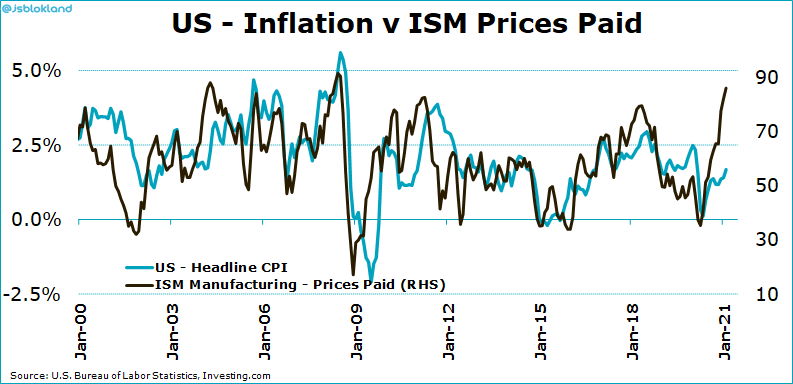 Headline CPI has been pretty well correlated to changes in the ISM 'Prices Paid' index, which measures businesses' expectations for price increases. The last time the Prices Paid Index was this high was before the Global Financial Crisis. Back then, CPI inflation was nearing 5%. Presumably, CPI won't be 5% next month, but make no mistake, it's headed in that general direction.
Some of the increase in prices is due to reopening effects and will likely prove temporary, but let's not kid ourselves. An endless parade of trillion dollar 'stimulus' bills, $120 billion of QE every month, helicopter money, and a near doubling of M1 money supply are playing the leading role. Unless you think that the Fed and Congress are about to become monetary/fiscal hawks, CPI is going to settle in at a high number after a spike this Spring/Summer.
It's one thing for investors to know in the back of their minds that high inflation, as measured by the Fed, is looming on the horizon. It's going to be quite another thing when we are actually living CPI inflation well over 2%, probably over 3%, and possibly over 4%, in just a handful of months and the Fed is still musing about holding rates at zero forever.
For those keeping track at home, the Fed Funds rate was 5.25% before the Global Financial Crisis when the Prices Paid Index was last in this neighborhood. Right now the Fed Funds rate is a hair above zero. Woe to the saver.