Taps Coogan – September 22nd, 2022
Enjoy The Sounding Line? Click here to subscribe for free.
We used to write a lot about deficit but for the last couple of years it has become such a hopeless task that we've focused on other topics.
As a reminder of where things stood before Covid, back in 2019, we wrote an article reminding readers that the true federal deficit was larger than the federal budget.
While that may seem impossible, federal spending is broken down into two categories: mandatory spending and discretionary spending. Mandatory spending is basically entitlement programs like Social Security and Medicare. It is automatic and not determined by annual congressional budgeting but instead by specific legislation such as the Social Security Act. The interest on the national debt is another mandatory spending item.
Discretionary spending is what the congressional 'budgeting process' actually covers. Discretionary spending includes everything you think about when you think about the traditional functions of government: the military, judges, courts, prisons, pork, FBI, congress itself, all the federal agencies like the EPA, NASA, BATF, etc…).
In 2019, tax revenue didn't even cover the mandatory spending. That meant that every single function of government other than entitlement programs and paying interest on the national debt was debt financed.
Obliviously things are unfathomably worse after the tsunami of reckless deficit spending in that started in 2020 and continues today.
Case in point:
Just the interest on the national debt over the past 12 months has reached $716 billion dollars, as the following chart from Charlie Bilello highlights.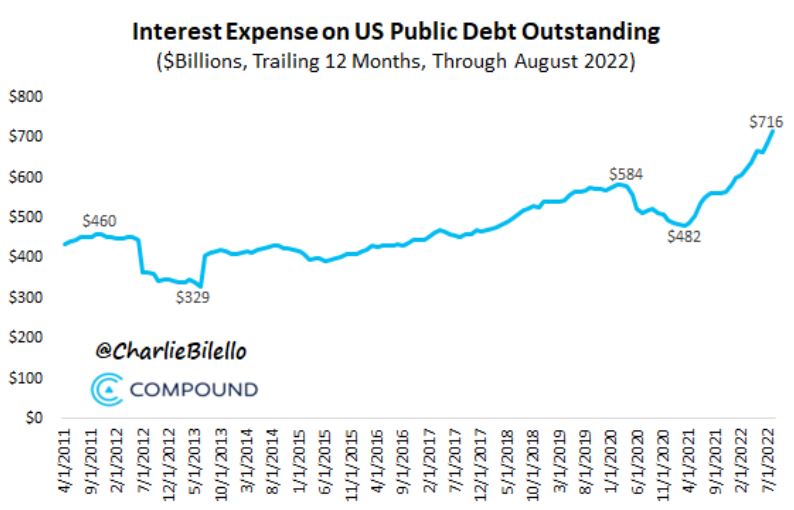 Not only does that mean that the interest expense has risen 23% since the eve of Covid, and not only is the interest expense now more than half of the discretionary budget from 2019, it has nearly overtaken the entire defense budget!
Back in 2018, we wrote an article noting that CBO projections for the interest expense implied that it would overtake defense spending perhaps around 2030, something we considered alarming at the time.
Boy was that wrong. It turns that the interest expense is likely to overtake defense spending in the next few years.
There is actually a debate as to whether a rising debt servicing cost causes a net increase in the cost of servicing the national debt. To my amazement, some very smart people have argued that because the government taxes the interest paid on its own debt, rising interest expenses don't necessarily increase the 'net' cost of borrowing to the federal government. For those who believe that, respectfully, please explain your math.
To take the most extreme example, let's say the interest expense doubles from where it is today ($716 billion) to $1,432 billion and let's assume that the effective tax rate on that interest is only 10% today (less than the long-term gains rate) and then it rises to 37% (the highest short-term gains rate) due to people moving up the tax brackets and reporting more gains. Even then, in that totally unachievably generous example, the 'net' interest cost rises 40%. In more realistic cases, the offset of moving up tax brackets is negligible.
Ultimately, all government spending ends up getting taxed one way or another. To believe that it therefore doesn't cost anything is to believe that government deficits and debt don't matter. There are many people that do believe that. I'm not one of them.