Taps Coogan – October 3rd, 2020
Enjoy The Sounding Line? Click here to subscribe.
The United States federal government fiscal year officially ends every September 30th and that means that FY 2020 is now officially in the books. What a year it has been. Owing to the Covid pandemic and subsequent economic disruptions and stimulus spending, FY 2020 saw the national debt rocket higher by a stunning $4.23 trillion, more than double largest previous annual increase ($1.89 trillion in 2009).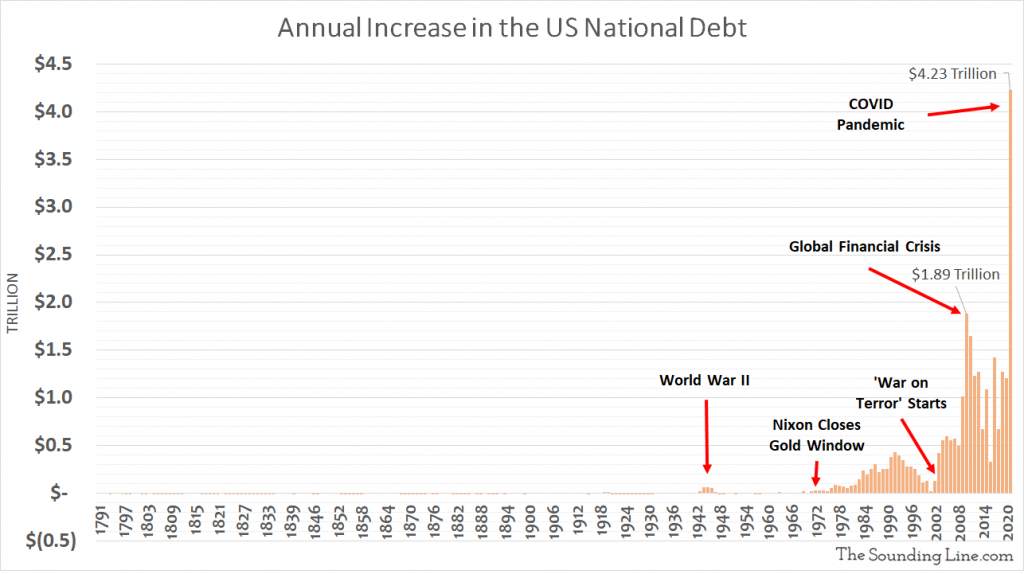 To put $4.23 trillion in perspective, the increase in the national debt this year was 96% the size of all federal spending in FY2019.
With much more economic recovery to go and more fiscal stimulus certain to come, fiscal year 2021 is likely to see only a moderately smaller deficit than 2020, all but guaranteeing the continued meteoric rise of the US debt-to-GDP ratio in coming years.
Would you like to be notified when we publish a new article on The Sounding Line? Click here to subscribe for free.