Submitted by Taps Coogan on the 4th of September 2017 to The Sounding Line.
As Americans and Canadians enjoy Labor Day, the labor movement that gave birth to 'labor day' has very little to celebrate. As the following chart from the American Enterprise Institute (AEI) reveals, union membership in the US has plummeted, falling from nearly 17% of the private workforce in 1983 to just 6.4% today. Less than one in 16 private sector workers are now union members.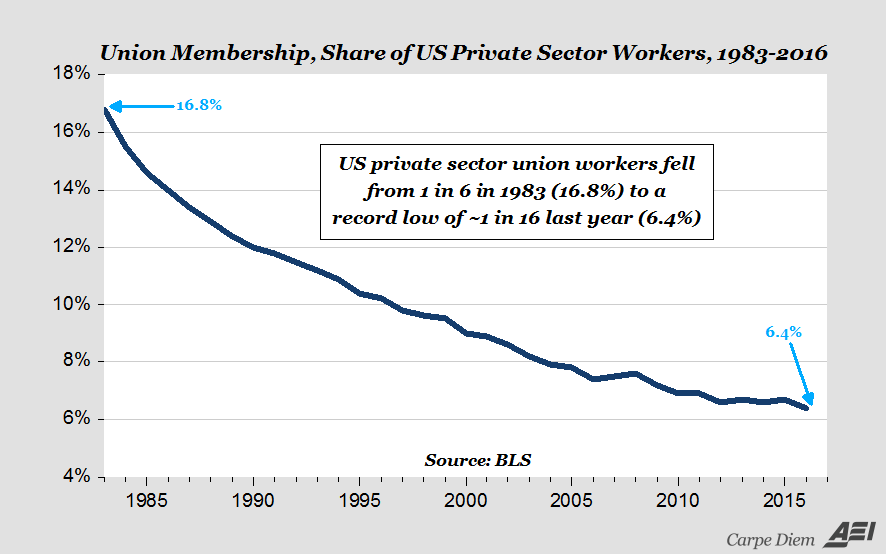 This trend has been driven by many factors. As AEI notes, "In today's high-tech, service and knowledge-based global economy, collective bargaining and unions don't make sense as they once did in the manufacturing-based economy of the 1960s." The percentage of Americans working in manufacturing has fallen from around 20% in the 1980's to less than 10% today.
The growing acknowledgement that employers would rather source American jobs and factories entirely offshore than accommodate noncompetitive union demands and strikes, raises doubts that unions still serve the interests of their own rapidly diminishing membership, let alone the broader American economy. Union leadership's innate knack for corruption and incompetence (here, here, here, here, here, here, here, here, here, etc.) is bewildering and certainly hasn't helped either. Accordingly, Americans' views towards unions have worsened over the decades, with approval sitting at barely over 50% today.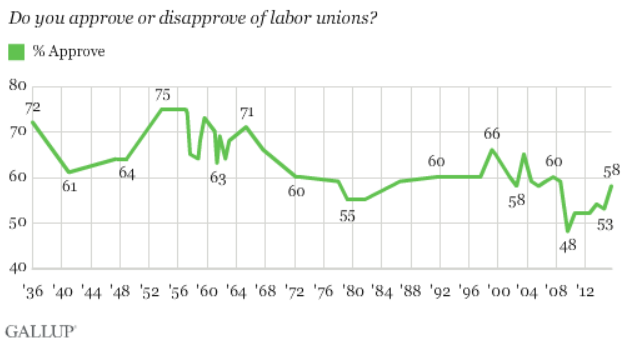 The long term decline of labor unions' relevancy and efficacy has left American workers and the tens of millions of Americans who aspire to be workers, without an advocate capable of delivering results. Enter Donald Trump, who has espoused to be just such an advocate.
P.S. We have added email distribution for The Sounding Line. If you would like to be updated via email when we post a new article, please click here. It's free and we won't send any promotional materials.