Taps Coogan – September 23rd, 2023
Enjoy The Sounding Line? Click here to subscribe for free.
It's not exactly breaking news at this point but the following chart confirms that last year was the worst on record for long term US bonds, going all the back to 1793. Via Jim Bianco:
1/8

🧵on where the bond market stands.

—-

Recall that last year was the worst total return year for the bond market in history.

Here is a chart back to 1801 to remind everyone how bad last year was. pic.twitter.com/eXzq5G5Iuw

— Jim Bianco (@biancoresearch) September 22, 2023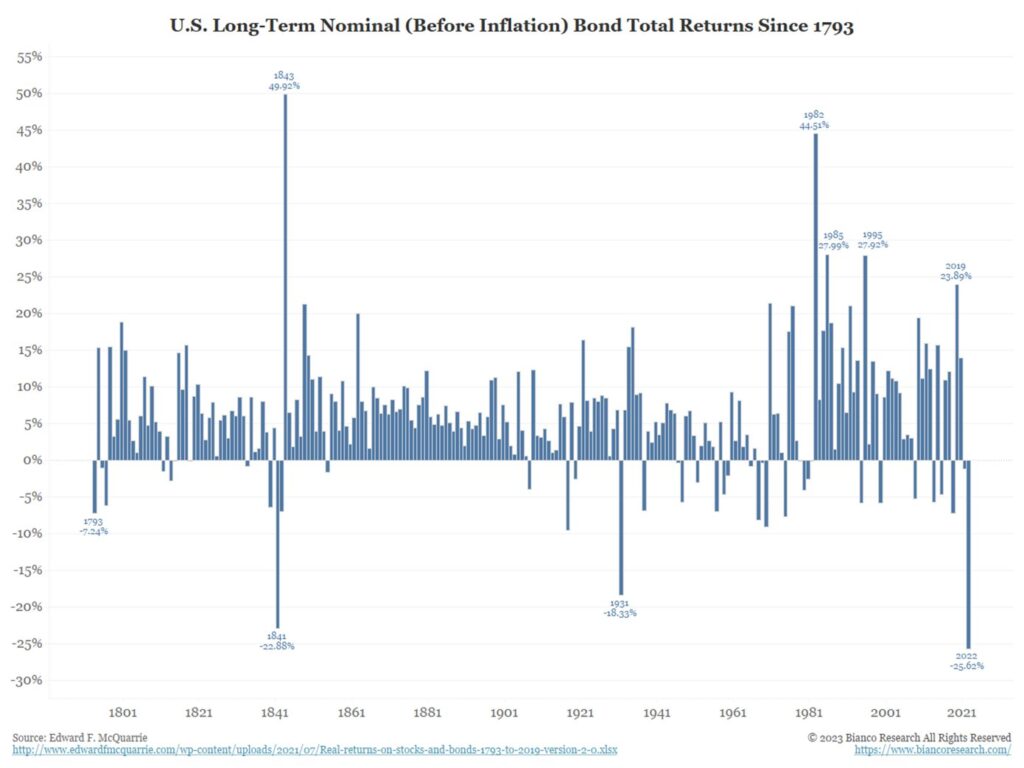 The labeling of the chart isn't explicit about how they defined 'long term bonds' but based on the figures in this article, which includes discussions with Edward McQuarrie – the source of data for the chart, I'll assume that the chart represents a blend of both Treasury and corporate bonds.
However 'long term bonds' is defined, as Mr. McQuarrie details, 2022 was the worst year since the 1700s for both long-term Treasuries and corporate bonds vis-a-vis both nominal and 'real' total returns.
Remarkable as all that may be, it shouldn't be too great of a surprise that the worst long-term bond returns would follow the era with the lowest and most artificial rates.