Submitted by Taps Coogan on the 27th of August 2019 to The Sounding Line.
Enjoy The Sounding Line? Click here to subscribe.
The following map, from the cost estimation website HowMuch.net, visualizes the size of goods exported around the world as of 2018.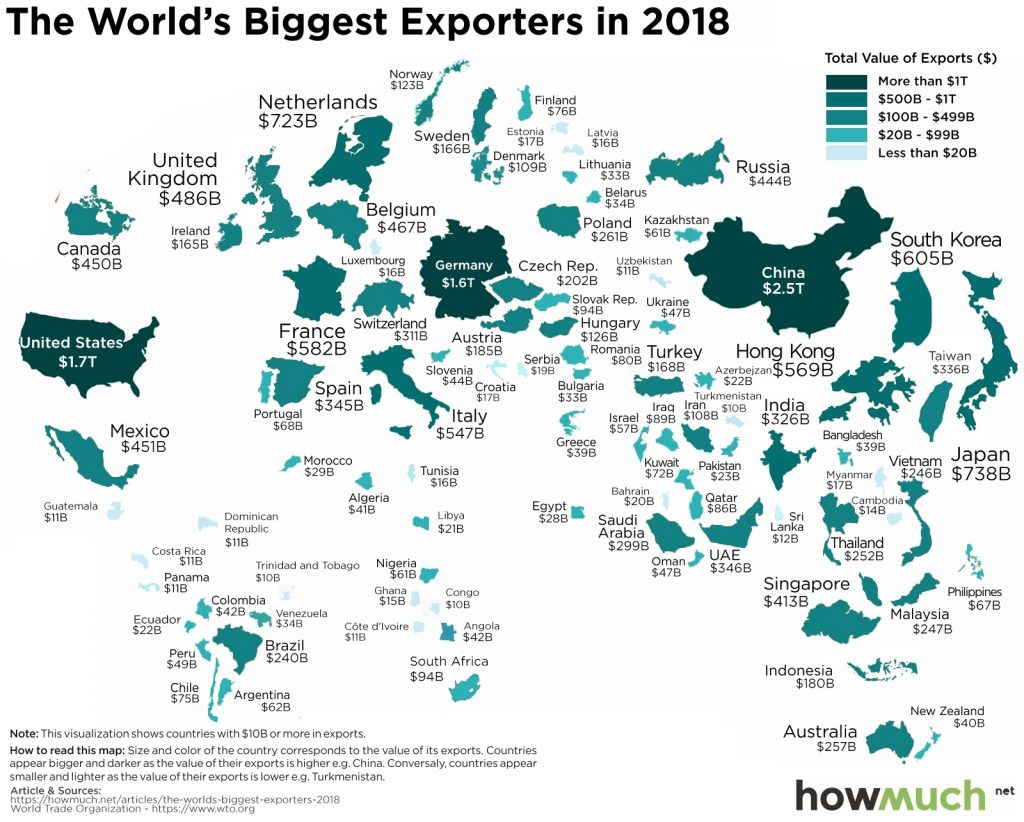 China exported roughly $2.5 trillion in goods in 2018, making it the largest exporter in the world by a wide margin. The US came in a distant second with $1.7 trillion of exports, despite having an economy over 50% larger than China. Germany is the world's third largest exporter, exporting roughly $1.6 trillion in 2018. Germany's exports are just slightly less than the US, despite having an economy one-sixth of the size. Japan is the world's fourth largest exporter ($738 billion), followed by the Netherlands ($723 billion). A significant portion of exports stated as originating from the Netherlands are likely from other countries in the EU and are being re-exported through the Netherlands.
While the US is the second largest exporter in the world, relative to the size of its economy, US exports lag behind most other developed economies. Partially to blame for this is that, until recently, tariffs applied on exports from the US were significantly higher than tariffs applied in the US for nearly every major US trading partner. Whether that is still the case in today's rapidly escalating trade war is unclear. While America's proportionality modest exports are nothing to celebrate, in today's increasingly combative trade environment, it does mean that the US has proportionality less to lose.
Would you like to be notified when we publish a new article on The Sounding Line? Click here to subscribe for free.