Submitted by Taps Coogan on the 13th of December 2019 to The Sounding Line.
Enjoy The Sounding Line? Click here to subscribe.
In 2018, the world exported a combined total of $494 billion of clothing, a 6% increase compared to 2017. The following map, from HowMuch.net, shows which countries were responsible for the bulk of that trade.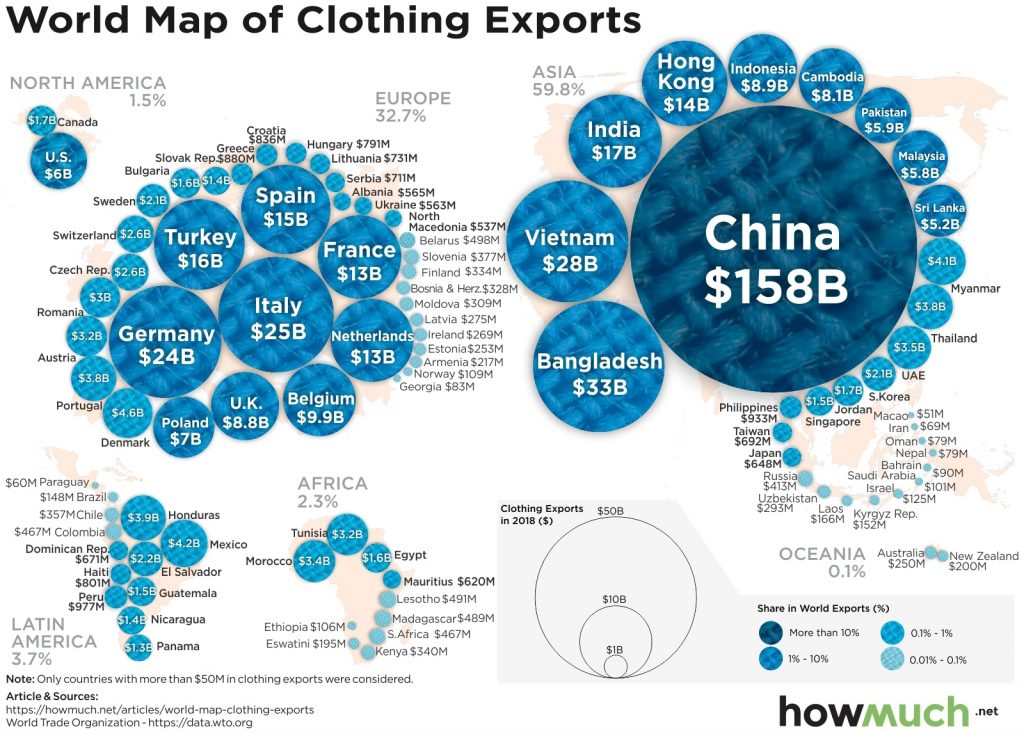 It will probably not come as an enormous surprise to learn that China is the world's largest exporter of clothing, responsible for roughly one-third of all exports ($158 billion). The distinction is a bit more surprising, however, when one considers that labor costs in China are now much higher than in Vietnam, Mexico, India, and many other large emerging manufacturing economies. Nonetheless, China's exports are nearly five times higher than the number two exporter, Bangladesh ($33 billion). Veitnam is the third largest exporter ($28 billion) and, somewhat surprisingly, Italy remains the world's the fourth largest clothing exporter ($25 billion).
As anyone who checks their clothing tags likely knows, the United States' clothing industry has completely atrophied and it exports only $6 billion a year.
Would you like to be notified when we publish a new article on The Sounding Line? Click here to subscribe for free.