Taps Coogan – January 13th, 2021
Enjoy The Sounding Line? Click here to subscribe.
The following chart, from Kailash Concepts, is a reminder that we are in the midst of one of the great stock market bubbles of all time. The market cap of tech companies with negative earnings has now surpassed the peak of the Dot-Com Bubble. For those keeping track, the Dot-Com Bubble and the late 1920s are considered the largest stock bubbles of the last 100 years.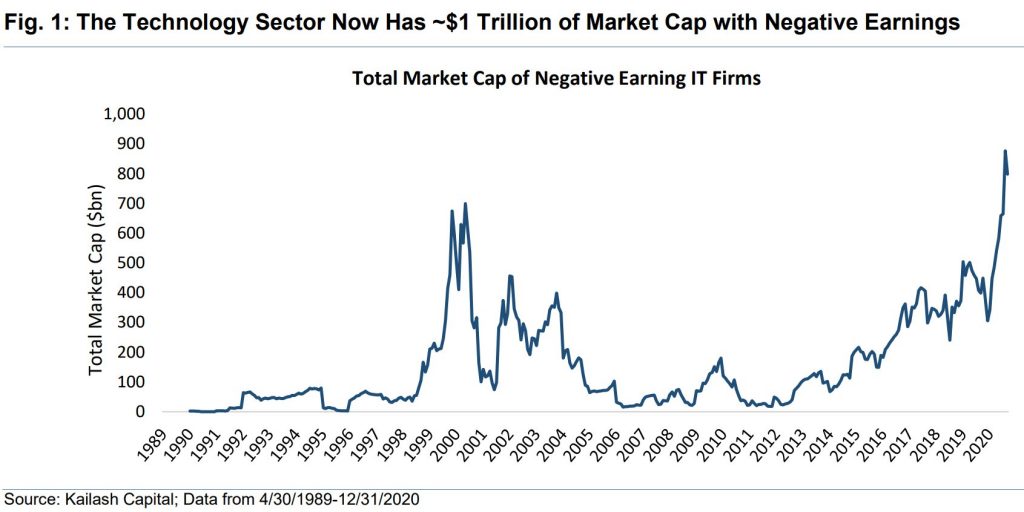 Given that the federal government is promising trillions of dollars of additional stimulus in 2021 and given that the Fed has decided to ignore inflation data for the foreseeable future, who knows how long this bubble will go on for. Maybe it's a crack-up boom.
Wherever this is going, we're living a speculator's dream and an investor's nightmare.
Would you like to be notified when we publish a new article on The Sounding Line? Click here to subscribe for free. The Sounding Line is now ad free and 100% reader supported. Thank you to everyone who has donated. Also, please consider sharing this article so that we can grow The Sounding Line!