Taps Coogan – March 24th, 2023
Enjoy The Sounding Line? Click here to subscribe for free.
Enjoy The Sounding Line? Click here to subscribe for free.
Goodness knows why it took soo long, but deposits are finally flowing into money market funds en masse, as the following chart from the always-interesting Andreas Steno Larsen highlights.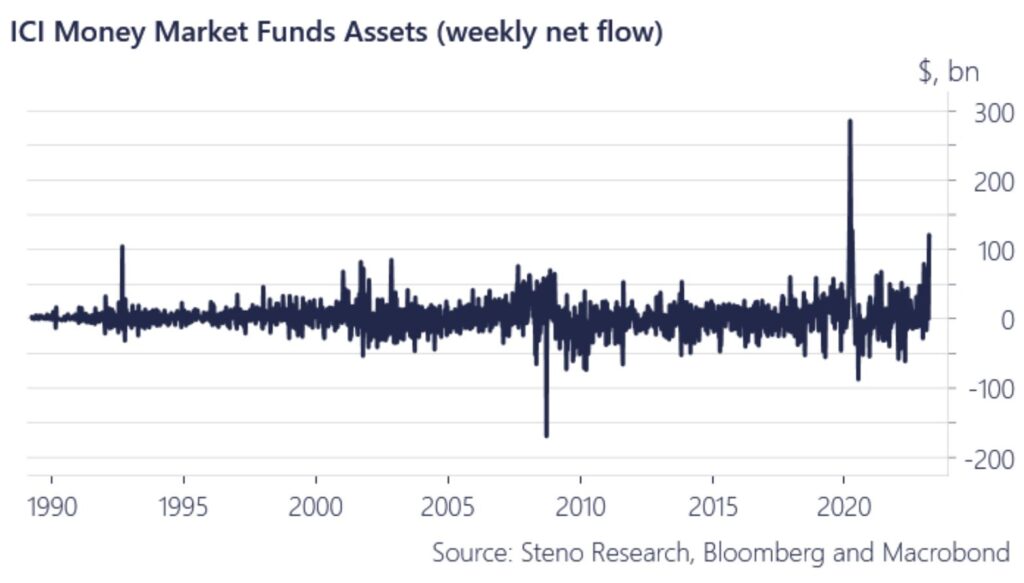 At my bank, the deposit rate is 0.1% while a Treasury Money Market fund yields between 4.2% and 4.3%.
That right there is THE problem facing US banks. Banks like First Republic reported paying an average deposit rate of just 0.4% in 2022, up from 0.07% in 2021. Meanwhile the yield on their interest-earning assets (the loans they've made and securities they own) was 3.13%. If depositors put their money into money market funds, it no longer counts as deposits for the bank. If such banks then go to the overnight market to make up for any funding shortfall, they'll be paying between 4.75%-5.00% to fund a portfolio that yields 3.13%. If they instead choose to sell down their assets, they'll have to realize market-to-market losses.
As we've noted before, there is some room for most banks to raise deposit rates before they lose money and banks can lose money as they roll their assets into higher yielding bonds/loans. This doesn't need to be apocalyptic but it is a major headwind for banks and will keep getting worse until the Fed cuts or long term rates start rising again.