Taps Coogan – April 13th, 2022
Enjoy The Sounding Line? Click here to subscribe for free.
Enjoy The Sounding Line? Click here to subscribe for free.
Yesterday's blistering 8.55% headline CPI print was one for the history books. Not only was it the highest print since December 1981, inflation has only been higher for a handful of years since the end of World War II.
If one considers the 'real' Fed Funds rate to be a measure of the dovishness of the policy stance, as people generally did before the advent of QE, this is the most accommodative policy stance in the history of the Fed. When adjusted for CPI inflation, the Fed Funds rate is now -8.35%. The 'real' Fed Funds rate never breached -5% during the 1970s.
CPI surged by over 50 basis points in March, meaning that even as the Fed hiked 25 basis points, they fell further behind inflation. Absurd yet true, CPI has been over 2% for a year and the Fed just stopped doing QE last month.
M2 money supply is growing at 11% year-over-year. Prior to Covid, that would have been one of the highest readings ever. Keep in mind that the current 11% year-over-year growth is relative to last February which was the all-time peak in money supply growth – clocking in at 27%.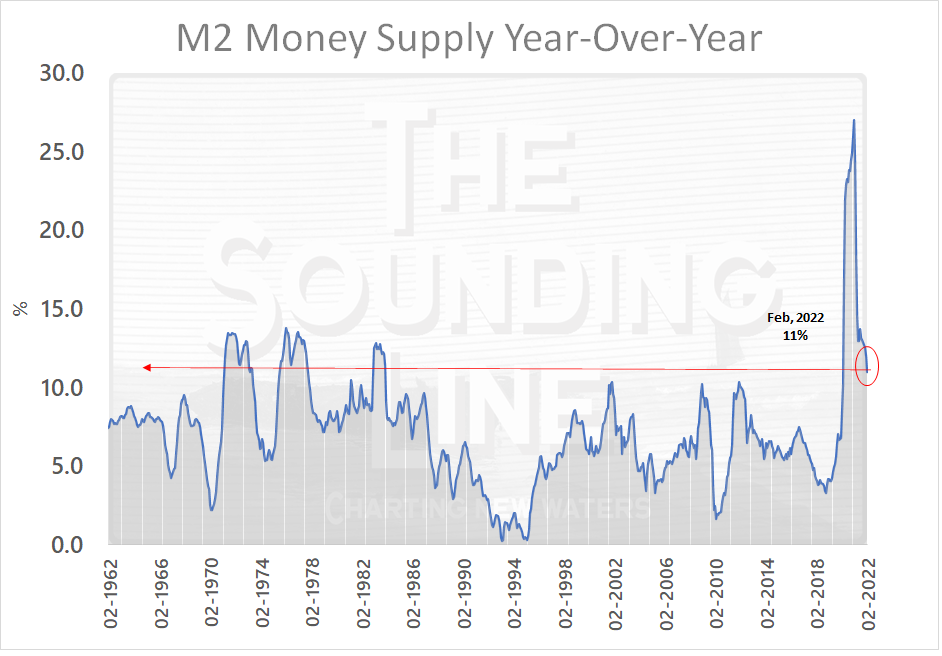 So, how much higher does inflation go from here? Prior to the Ukraine invasion, it looked like inflation might have been on track to peak in February or March. With the war in Ukraine, all bets are off.
Nonetheless, a recent article from the shipping publication Freight Waves argued that demand for trucking was becoming unseasonably soft as inflation-adjusted inventories start to look unsustainably high.
The sort of normalization of inventories implied by the chart above would look a lot like a severe recession. Coincidently, recession is how every prior major inflation overshoot has resolved itself. We're not there yet, and might not be for some time, but that is where this is headed.
Would you like to be notified when we publish a new article on The Sounding Line? Click here to subscribe for free.