April 18th, 2021
This late 19th century Myers Hausel Hay Trolley is a true rarity. As the only known example of this model and more than 100 years old, it represents a significant early period in American farming where all hay storage was done outside. The vast majority of trolleys that ran on cable did so in the fields where huge hay stack where the preferred storage method. These hay stacks were so enormous that falling off of the top of one could be fatal. Once the farmer had found a suitable place for such a stack, two enormous wood poles had their crossed "X" tops bound together, one on either side of what was to be the mound. A cable would then be stretched between the two X towers extending down to the ground and spiked on either side. Wagons, would bring hay to these towers, that hay would be lifter and dropped down the line to form the stack. This example is in magnificent condition and, somehow, missed either rusting away in the fields or eventually being donated as scrap during the First and Second World War metal drives. There are examples of cable and rod trolleys that were placed in barns but timber and rail trolleys would eventually retire the vast majority of them.
Below is a photo of a hay trolley in use. If you look hard, it can be seen suspended between the wooden poles, holding a payload of hay.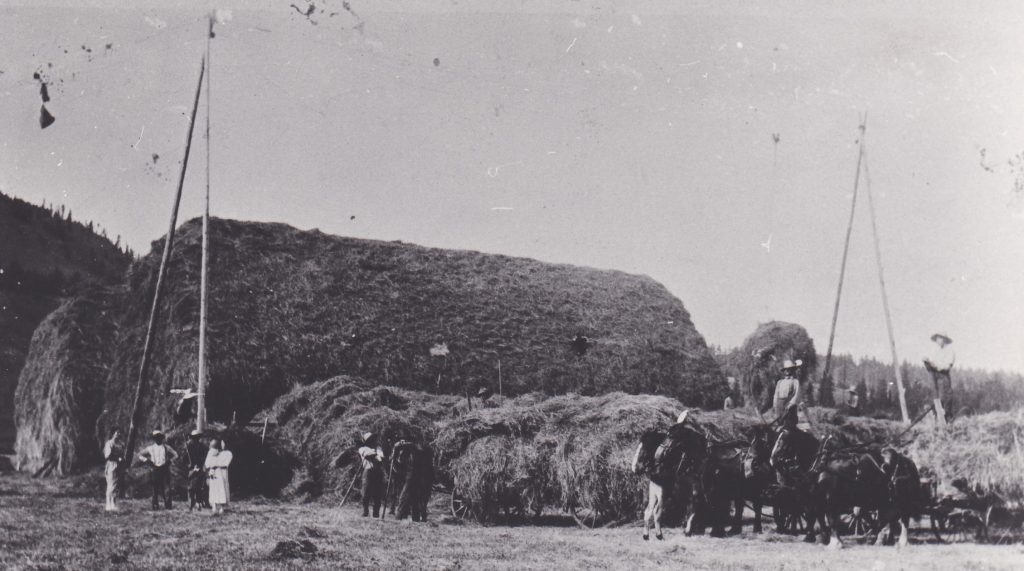 Would you like to be notified when we publish a new article on The Sounding Line? Click here to subscribe for free. Also, please consider sharing this article so that we can grow The Sounding Line!