Submitted by Taps Coogan on the 19th of January 2020 to The Sounding Line.
Enjoy The Sounding Line? Click here to subscribe.
The US federal government workforce rose to 2,860,000 employees in January 2020, its highest level since July 2011. While federal employees represent a relatively small fraction of the overall US workforce, they are now growing at a faster rate than the overall workforce, the overall private-sector workforce, and the manufacturing workforce for the first time since December 2010.
Contrary to popular perception, the explosion in the federal deficit in recent years has had as much to do with rising federal spending as the recent tax cuts. As we discussed in depth here, barring the Financial Crisis, federal spending is growing at the fastest pace since 1985. In lock step with the increase in spending has come the current re-acceleration in federal hiring which, barring the Financial Crisis and the census, is growing at the fastest annualized pace since 1987.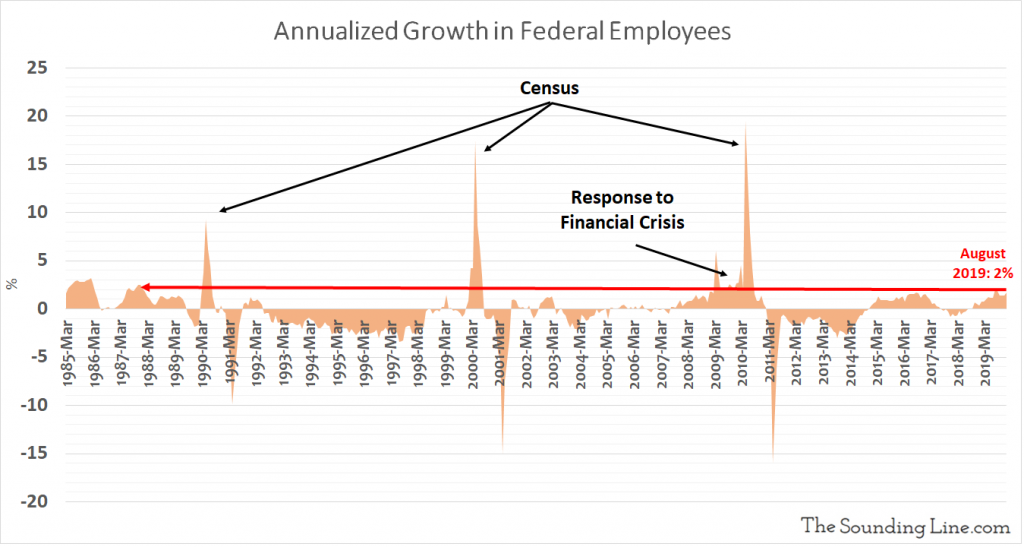 The US economy is in the midst of one of the most accommodative mixes of fiscal and monetary policy in modern history. Indeed, the only time since the mid 1980s that saw larger deficits, faster federal spending and hiring, and a faster expansion of the Fed's balance sheet was during the response to the Financial Crisis. Meanwhile, the Fed has monetized 70% of net Treasury issuance since last October and is keeping benchmark rates well below even the most conservative measures of inflation.
Milton Friedman famously said that monetary policy acts on the economy with "long and variable" lags. It is likely that the ongoing Coronavirus scare is further exacerbating those lags. While everyone is justifiably fixated on the risks poised by the Coronavirus, if those risks subside, monetary and fiscal policy suggest that what comes next may be some of the frothiest markets ever witnessed. Prudent or not, the stock market seems to already be betting on it and keeps making new highs in defiance of pretty much everything else.
Would you like to be notified when we publish a new article on The Sounding Line? Click here to subscribe for free.