Submitted by Taps Coogan on the 30th of December 2019 to The Sounding Line.
Enjoy The Sounding Line? Click here to subscribe.
Largely owing to it's massively expanded repo facilities, the Fed's balance sheet swelled by $112 billion in the month of December. Apart from October's $162 billion jump, the only month since the Financial Crisis that has seen a larger increase was April 2013, the peak of the Fed's QE3 program.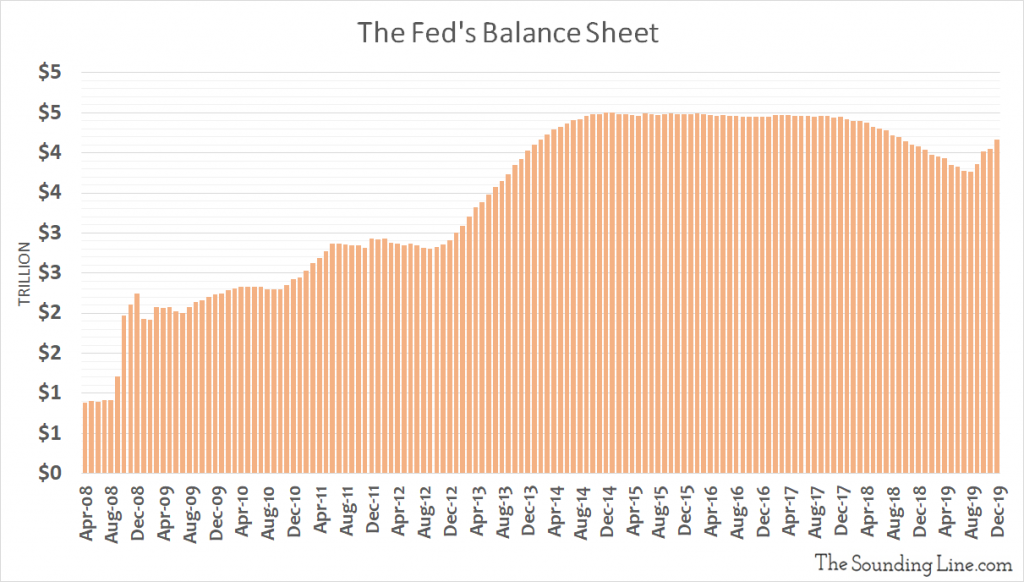 As previously noted, in addition to the Fed's ongoing $60 billion-a-month 'Not QE' program, the balance sheet growth in December was a result of the one-time expansion of the Fed's repo facilities to handle end-of-year liquidity demands. All things being equal, most of those expanded repos will expire in the first couple weeks of January and roll of the Fed's balance sheet. Until the Fed announces some new program, the rate of growth in the balance sheet should now moderate substantially. To the extent that the surge in December liquidity pushed markets higher, it would be wise to keep an eye on moderating liquidity in early 2020.
All in all, the Fed's balance sheet has grown a stunning $405 billion since the end of 'Quantitative Tightening' in August 2019.
Would you like to be notified when we publish a new article on The Sounding Line? Click here to subscribe for free.