Taps Coogan – November 4th, 2022
Enjoy The Sounding Line? Click here to subscribe for free.
The 'Great Resignation,' the large uptick in people leaving their jobs since Covid, appears to be moderating, at least to a degree.
As the following chart from Statista highlights, the latest 'quits' data from the BLS shows that the number has fallen by about half-a-million people per month to roughly four million.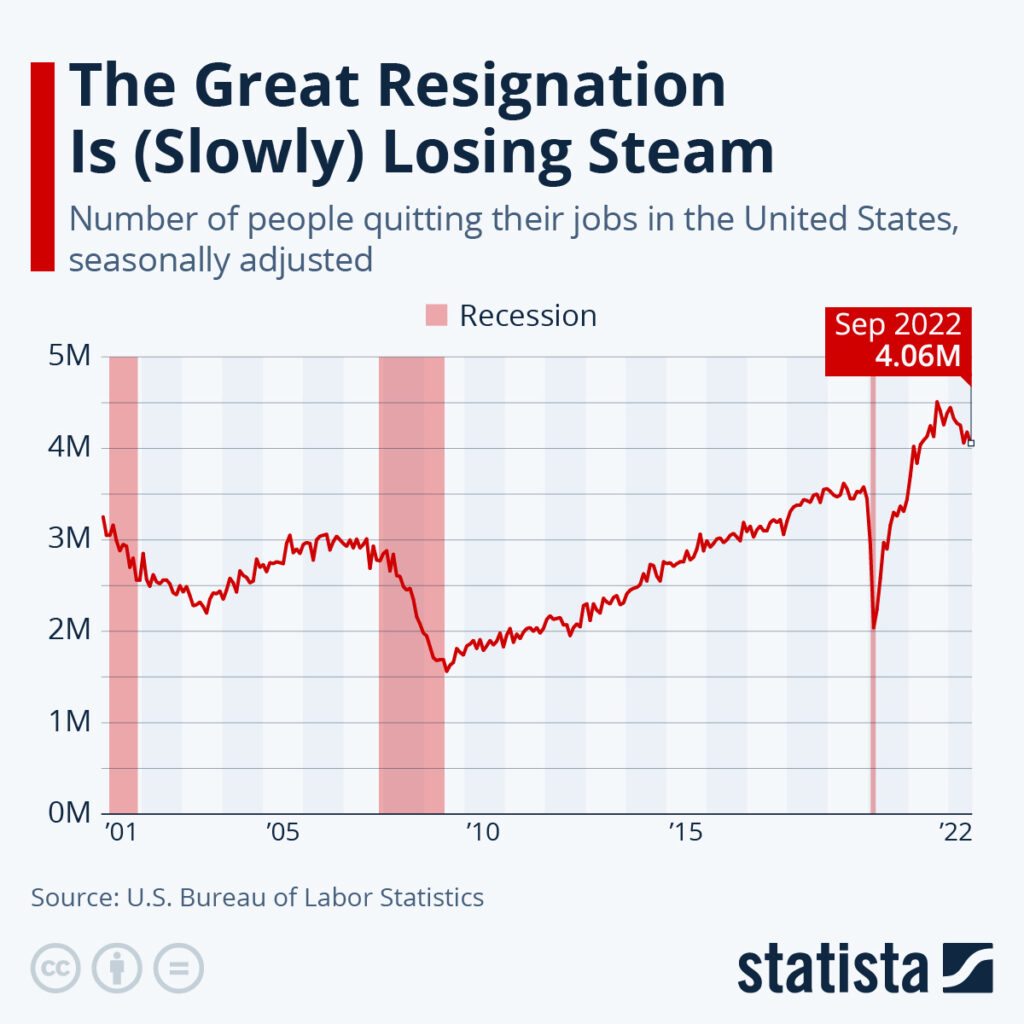 Quits are still half-a-million above the pre-Covid level, though we are getting closer to the trajectory from 2010 to 2019.
The drivers of the 'Great Resignation' are: working-age people voluntary exiting the workforce, people's propensity to change jobs more often, and the retirement of the Baby Boomers.
Prime working age labor participation (25-54 year-olds) is within a couple percent of the all-time high from the late 1990s (82.7% vs 84.5%) and considering that the average age in the 'prime' category is now more heavily skewed toward 54, today's rate is about as good as it's going to get. The decline in labor participation is mostly driven by people under 25 and a lot of that comes down to college, increasing reliance on parents, expectations around working while at school, etc… It's hard to imagine that changing.
Increasing job changing is inevitable in a world without private-sector pensions.
That leaves Baby Boomers retiring and it's the big driver of the great resignation. The bulk of the Baby Boomer generation is now into retirement age and Covid has pushed many of them to finally hang up the gloves.
Given that subsequent generations are all smaller than the baby boomers were at equivalent ages, there is no realistic way that the US labor force is going to be a able avoid an dependency spiral from here on out as the ratio of workers to benefits receivers (retirees and other) gets worse.
Would you like to be notified when we publish a new article on The Sounding Line? Click here to subscribe for free.