Taps Coogan – January 8th, 2020
Enjoy The Sounding Line? Click here to subscribe for free.
Enjoy The Sounding Line? Click here to subscribe.
The following chart, from Arbor Research and Trading via Liz Ann Sonders, details one of the truly historic market phenomenon of 2020: the meteoric return of retail traders.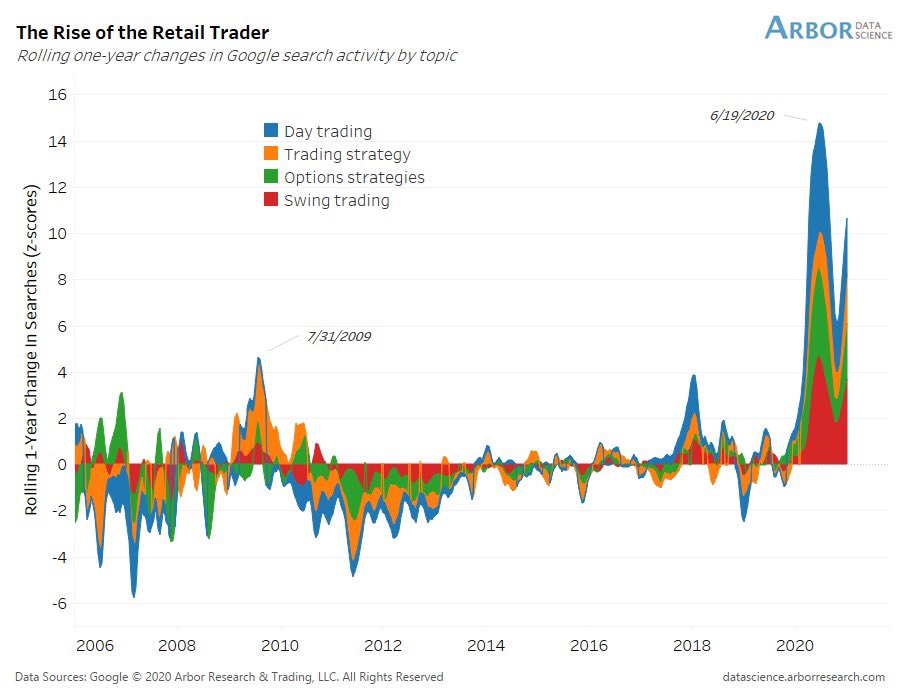 Over the years, the declining participation of small retail investors in the stock market has been a theme we have repeatedly bemoaned. During the largest transfer of wealth from the real economy to financial markets in memory, fewer and fewer people were reporting that they owned stocks. That changed in 2020 in a big way.
Whether it was working from home, transfer payments, expanded unemployment, or the enticement of the sharp selloff in March, retail investors return to the market this year in a magnitude never before seen.
Generally speaking, increasing participation in the stock market ought to be viewed as a positive. It represents broader ownership of America's productive capital. It creates more advocates for free markets (what's left of them) and it's a small part of reversing the wealth divide.
The fact that the retail investor has returned en masse to the most expensive market in American history is, of course, highly concerning. It is also a reminder that everything is now hinging on the Fed continuing its accommodative monetary policy ad infinitum.
Would you like to be notified when we publish a new article on The Sounding Line? Click here to subscribe for free. Also, please consider sharing this article so that we can grow The Sounding Line!