Taps Coogan – August 3rd, 2020
Enjoy The Sounding Line? Click here to subscribe
Last week I discussed what I believe to be the only feasible path forward for the US economy: accomodative monetary policy, stimulus, and massive budget deficits until we get brisk consumer price inflation, however long that takes.
To be crystal clear, that outlook is not an endorsement of loose monetary/fiscal policy or inflation. To a large extent, this website has existed to argue that we needed to take risks to normalize monetary and fiscal policy during the 'good times', so that we could avoid brutal lose-lose choices during the 'bad times.' Obviously, we didn't normalize policy post-Financial Crisis and now the 'bad times' are back with vengeance.
The question remains, how long is it going to take to get through the dis-inflationary recession part of this painful cycle.
As far as I am concerned, the most important number in that regard is that there are currently a near record 31.8 million Americans receiving state or federal unemployment insurance. That is 10% of the entire US population, 15% of the working age population, and 20% of the labor force. Until that number starts shrinking, neither the labor market nor the broader US economy will really improve.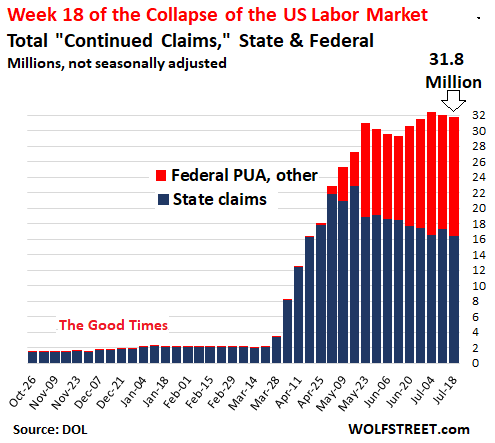 There are a lot of different ways of slicing and dicing the unemployment statistics and an unending number of other economic metrics that peer into various facets of the US economy. None of them are as important as the simple, non-seasonally adjusted number of people receiving unemployment benefits. The number is updated every week with a relatively limited data lag (expect for the backlog of unemployment claims that are still being processed). Because unemployment benefits now run for at least 39 weeks in most states (including the recent CARES act extension), we don't need to worry about Covid related job losses falling off of the unemployment rolls until year end. Wolf Street has the unvarnished numbers and does a great job detailing the weekly reports.
The most important question for the economy is how long it will take before the chart above starts looking healthier. Every week that goes by where it doesn't start meaningfully improving is a week where temporary layoffs become permanent, where new layoffs move up the pay-scale, and where the recession gets worsened by multiples.
Would you like to be notified when we publish a new article on The Sounding Line? Click here to subscribe for free.