Taps Coogan – June 8th, 2021
Enjoy The Sounding Line? Click here to subscribe.
The following chart, from HowMuch.net, reveals the top export destination for every state in the US as well as Puerto Rico, DC, and the US Virgin Islands.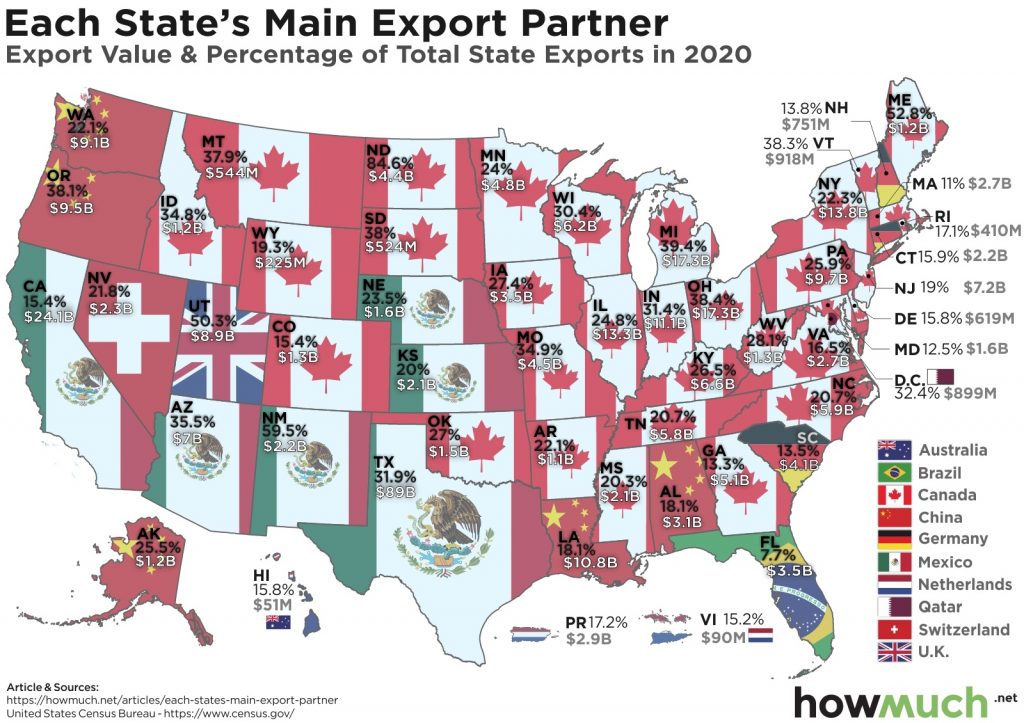 As HowMuch.net notes:
Canada is the single biggest trading partner for the vast majority of states, receiving the most exports for 33 states.
North Dakota and New Mexico are the two states most heavily dependent on a single country for their export industries. 84.6% of all exports from North Dakota head north, and 59.5% from New Mexico go south.
China is the largest trading partner for only five states, which includes Alaska. This is one sign of the large trade deficit between the U.S. and China.
Most states have a balanced and diversified number of international trade partners, with the average across all states coming in at 26.4%
Some notable outliers include Utah whose largest export partner is the UK (mostly importing Gold), Nevada whose largest export partner is Switzerland (also Gold), New Hampshire and a few other states whose largest export destination is Germany (aerospace exports), Florida whose largest export partner is Brazil (aerospace), and DC whose largest export partner is Qatar (weapons not necessarily made in DC).
All in all, geography remains the key determinant for goods exports for most US states. That means Canada and Mexico remain our most important export partners despite our surging import trade with China.
Would you like to be notified when we publish a new article on The Sounding Line? Click here to subscribe for free.