Submitted by Taps Coogan on the 21st of September 2018 to The Sounding Line.
There has been so much back and forth in the trade dispute between the US and China that it has become difficult to maintain perspective on just how much trade is actually being subjected to tariffs. The following graphic from Statista clarifies exactly that.
You will find more infographics at Statista
While both China and the US have now threatened to impose tariffs on virtually all bilateral trade, the US has only applied tariffs on $53 billion of Chinese imports, roughly 10% of imports. Conversely, China has already applied tariffs on $50 billion of US imports, roughly 40% of imports. Coming soon (on September 24th) will be another $200 billion of tariffs recently announced by the US and $60 billion announced by China. Those tariffs, plus US threats to implement another $267 billion in tariffs, will cover virtually all goods traded between China and the US.
Given that all bilateral trade may soon by covered by tariffs, the 'tariff war' is fast reaching a point of diminishing returns. While tariff rates can always be raised higher, US and Chinese buyers are already searching for alternative sources for each-other's trade goods. Further, raising tariff rates on goods that you no longer buy doesn't have a real world effect.
As we have noted on numerous occasions, because China maintains such an enormous trade surplus with the US, it will always been be the bigger loser in a trade war. Furthermore, Chinese tariffs on US goods are over twice as high as US tariffs on Chinese goods, their regulatory hurdles are far higher, and their theft of intellectual property is rampant.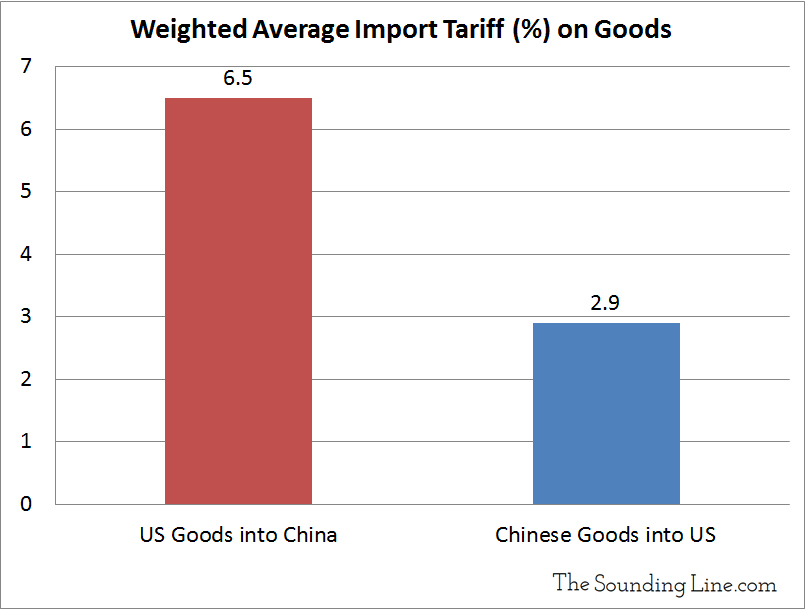 Either the situation 'freezes' with the US and China keeping prohibitive tariffs on virtually all goods, or a deal is made. Because the US economy and markets are accelerating and the US has legitimate grievances regarding Chinese trade practices, it is hard to imagine the US making concessions to get a deal done. That puts the ball in China's court.
For now, there have been no serious indications that the Chinese are willing to make substantive concessions. Perhaps they think that the risk to their economic transition into higher value industry is too high. Most likely, they simply think that their economy is big enough to withstand losing its biggest customer. Whatever the reasons, if a deal doesn't get done before tariffs have been applied to all bilateral trade, it is hard to imagine either side being able to coax the other into a deal afterward.
If you would like to be updated via email when we post a new article, please click here. It's free and we won't send any spam.