Submitted by Taps Coogan on the 26th of March 2018 to The Sounding Line.
Headlines around the world are proclaiming that the US has started an global trade war by applying tariffs on steel and aluminum imports and by applying roughly $60 billion of tariffs on Chinese imports in retaliation for rampant Chinese technology theft. In light of this, in the recent article 'What the US Exports to China,' we noted that US import tariffs are actually less than half of China's and many times lower than the world average. Reader 'Tom' commented:
"Since China's tariffs were already double the US, and the world average is triple the US, isn't it a bit disingenuous for anyone to claim the US is "starting" a trade war? The solution to this is to shine a bright light on EVERYONE'S tariff practices, and the third graph in this article, short as it is on details, is as close as I've seen to the truth in any article since Trump's steel and aluminum tariffs were announced."
Updated and expanded, the chart below shows the weighted average import tariff applied by countries around the world as well as the numerical average of all reporting countries in the world.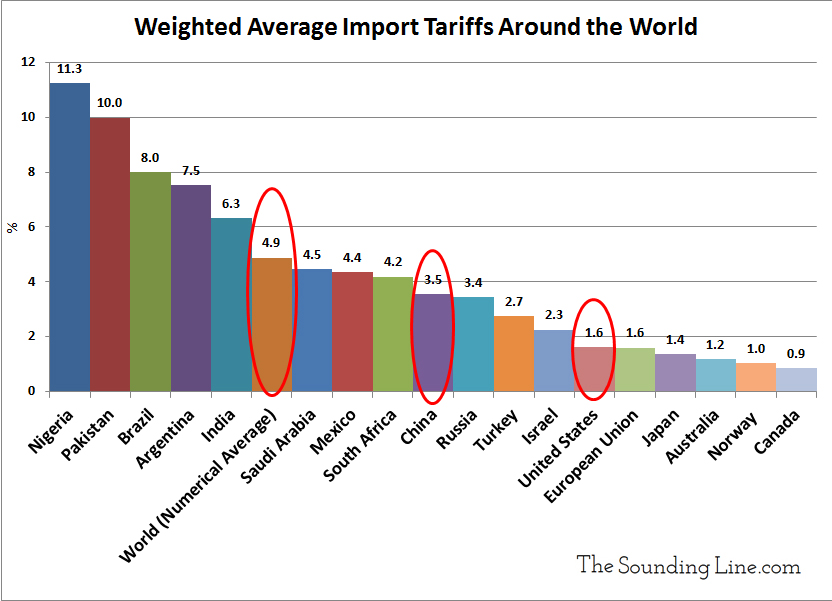 Weighted average import tariffs in the US are less than half of those in China, less than a third of the world average, and nearly a quarter of those in India.
To suggest that the US is starting a trade war with China is, as reader Tom put it, 'a bit disingenuous.' There is a trade war between the US and China, and it has been going on for decades. It is a result of China's tariffs being twice as high as America's and it has driven China's trade imbalance with the US to ludicrous proportions. For every dollar the US exports to China, China exports three to the US and this doesn't includes the fact that China steals hundreds of billions of dollars of intellectual property and technology from the US every year.
If China, and the majority of other countries in the world, wish to avoid the US finally retaliating in the trade war that it has been losing horribly for decades, they might want to consider lowering their import tariffs to the same level as in the US. Blaming the world's largest importer for starting a trade war, a country whose import tariffs are three times lower than the world average, is about as disingenuous as it gets.
P.S. If you would like to be updated via email when we post a new article, please click here. It's free and we won't send any promotional materials.