Taps Coogan – February 28, 2022
Enjoy The Sounding Line? Click here to subscribe for free.
Last October, we noted that US capacity utilization had finally gotten back to pre-Covid levels. At the time we warned:
The fact that the US economy is generating such a high level of inflation at these relatively low levels of capacity utilization (and labor participation), should probably raise a few big red flags about the entire Phillips-Curve school of thought that dominates the Fed and also about the prudence of pouring monetary and fiscal stimulus on top of an economy that is recovering as fast as could be hoped for.
Nonetheless, the Fed continued on for another five months of QE and ZIRP, and did another $30 billion in QE this month as inflation crests 7.5%. Meanwhile, capacity utilization has ticked up to 77.6%, the highest since March 2019 and above the average since the Global Financial Crisis.
Inflation aside, rising capacity utilization is a welcome development that should lead to increasing capital investment in the US manufacturing base. Of course, zooming out a bit, capacity utilization still has a long way to go before it gets out of its long-term downtrend.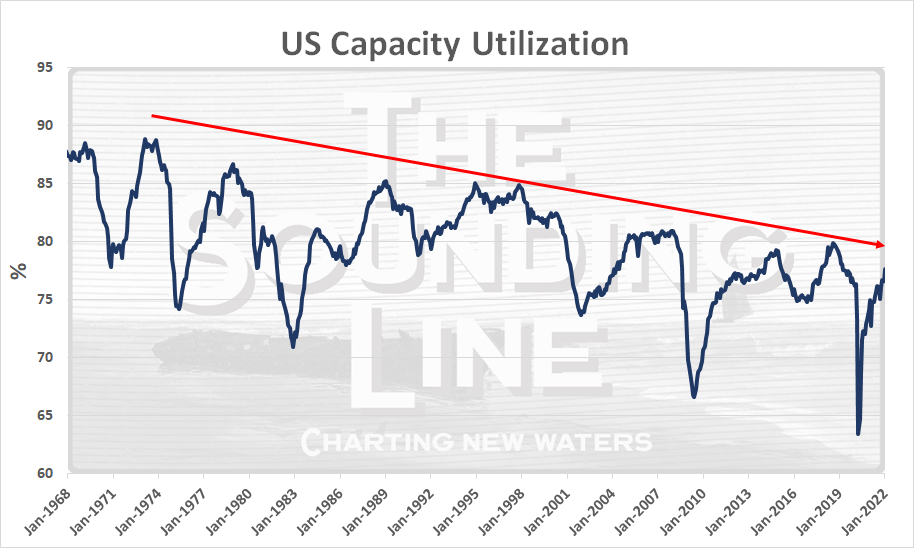 Would you like to be notified when we publish a new article on The Sounding Line? Click here to subscribe for free.