Taps Coogan – May 9th, 2023
Enjoy The Sounding Line? Click here to subscribe for free.
The following chart, from Bloomberg via Acemaxx Analytics, highlights the fact that the US is importing more from Europe (the EU plus the UK) than from China.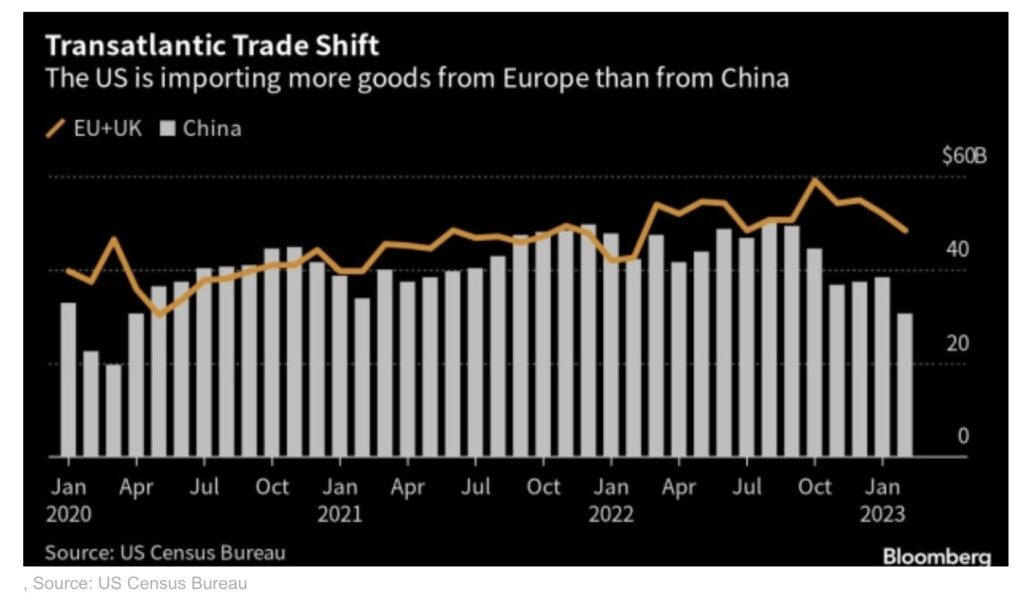 Whereas US imports from the Europe and China have been closely matched for the last few years, a significant gap has opened up since last fall.
While many are claiming that this shows a shift in US trade preferences away from China and towards the EU, including the Bloomberg article from which it comes, that is unlikely. US imports from Europe and China represent widely different types of goods and high cost European producers are not suddenly out performing China in the production of consumer electronics, clothing, furniture, cheap junk, etc…
What is actually at play is weakening US consumer demand for consumer electronics, clothing,etc… made in China and the relocation of some of that production to other even-lower-cost countries like India and Vietnam. Meanwhile, US demand for the largest categories of European goods (chemicals, industrial machinery, planes, etc…) remains structurally stronger than consumer spending.