Taps Coogan – July 28th, 2021
Enjoy The Sounding Line? Click here to subscribe.
As it turns out, China building re-education work camps for ethnic minorities, engaging in forced organ harvesting of prisoners of conscience, trashing the Sino-British treaty on Hong-Kong, lying about Covid, and preparing an invasion of nearby democratic Taiwan wasn't enough to imprint on US investors that there just might be 'political risk' associated with buying shares in Chinese companies listed on US indexes. Nor was China's contracting credit impulse or dwindling workforce.
No, it took China taking down an app…
As the following chart shows, from Bloomberg via Christophe Barraud, Chinese stocks listed in the US are down nearly 50% from their February high, largely on the back of a series of punitive actions taken by the CCP against those companies, starting with Alibaba and culminating in the removal of the Didi app (like Uber) from app stores in China as retribution for listing in the US.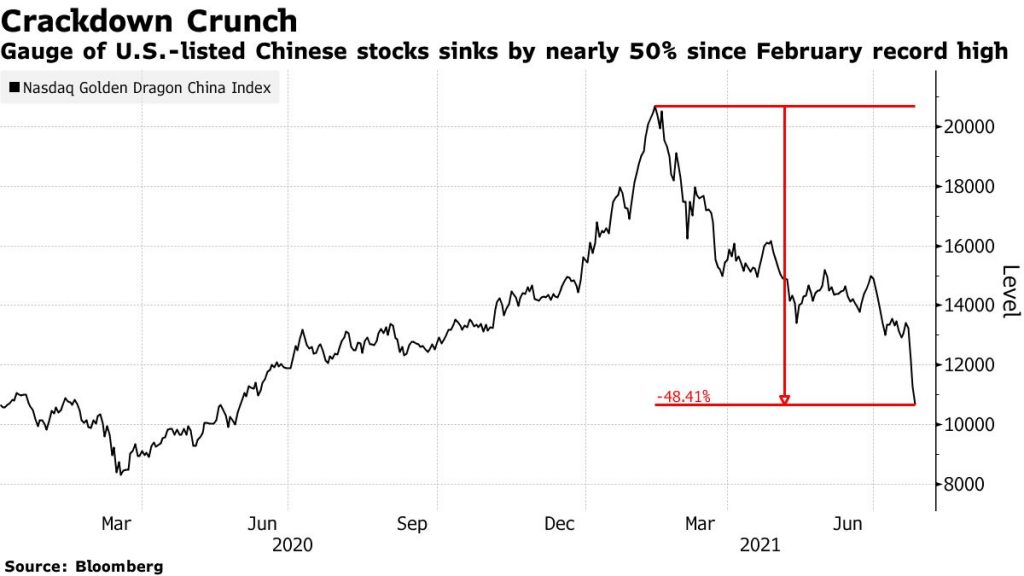 Anything that is down 50% is probably owed a nice bounce, but on a longer time horizon, it's well past time American investors wake up to the reality that the CCP stopped hiding the fact that it is a totalitarian communist dictatorship-for-life.
Would you like to be notified when we publish a new article on The Sounding Line? Click here to subscribe for free.