Submitted by Taps Coogan on the 25th of May 2018 to The Sounding Line.
We recently published the following chart, which shows that the UK's defense spending has slipped to its lowest levels relative to GDP since at least 1692.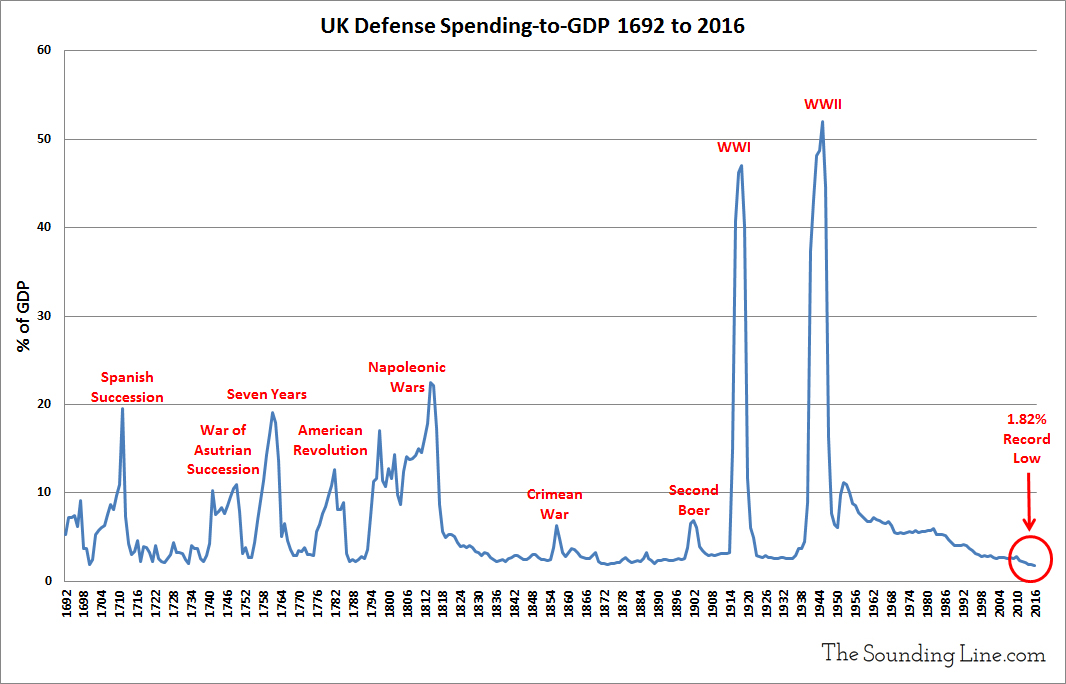 Despite the record decline in defense spending, the UK's government debt-to-GDP has more than doubled from 41.7% in 2007 to 87% in 2017, begging the question: what is the UK government spending so much money on, if not defense?
The following chart, from Statista.com, answers that question and details how the UK spent £711 billion ($951 billion) in taxpayer money and debt in 2016/2017.
You will find more infographics at Statista
24.3% of UK government spending goes directly towards welfare, 20.3% goes towards healthcare, and 12.9% goes towards state pensions. Together, over half of UK government spending goes to these 'entitlement' programs (57.5%). Meanwhile, the UK is spending £39.4 billion ($52.72 billion) in interest on the national debt, more than it spends on national defense (£37 billion) and more than it spends on culture (£11.6 billion), on the environment (£11.3 billion), and on housing and utilities (£11.6 billion) combined.
With politically sacred entitlement programs and the already under-resourced national health system accounting for over half of UK spending, with nothing left to cut from the defense budget, and with the rising interest rates and borrowing costs looming, anyone who pays taxes or relies on UK government spending or services faces tough times ahead.
P.S. If you would like to be updated via email when we post a new article, please click here. It's free and we won't send any promotional materials.