Taps Coogan – December 21st, 2021
Enjoy The Sounding Line? Click here to subscribe for free.
Enjoy The Sounding Line? Click here to subscribe for free.
The following chart, from Bloomberg via Trinh, shows the intraday wind power variability in Germany.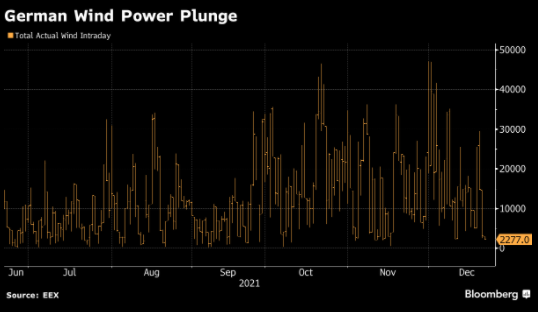 Germany has one of the largest wind power installation bases in the world and ranks behind its smaller neighbor Denmark for the highest wind power production per capita in the world.
Nonetheless, as the chart above highlights, Germany's intraday wind power production plunges to nearly zero several times a month.
It also just so happens that the sun goes down every single day. That means that some of those lulls in wind likely happened at night. In other words, a geographic area the size of Germany, despite having among the highest wind and solar power generation capacities in the world, is likely to get very low power output from both wind and solar multiple times a month and may spend a couple weeks in a row, as it did in early September, with persistently low wind production.
That means that the entire debate about the cost of wind and solar power is framed incorrectly. The choice is not between wind/solar vs. natural gas/nuclear but wind/solar and gas/nuclear vs. just gas/nuclear.
At this point, wind and solar advocates pivot to a story about battery storage backup. Germany generates about 488 TWh of electricity a year or about 1.3 TWh of energy on an average day. Germany has about 550 MWh of large scale battery storage: about 0.4% of the amount needed to make it through one cloudy, windless day. One can try and work up how many trillions of dollars/euros it would cost to buy and install enough lithium ion batteries to make it through a cloudy windless week and store up enough solar power in the summer to make it through the darker days of the winter, but those figures are based on lithium, copper, and nickel prices today, not what the prices would be if every country was trying to build trillions of dollars of batteries at the same time, all while electrifying the automotive industry.
Oh, and remember, grid scale lithium-ion batteries likely only last seven to ten years before needing to be replaced. So, whatever the cost of backing up the entire grid will be, it will need to be paid out every decade, in perpetuity, or until some technology that isn't commercial today becomes commercial.
None of this is to say that wind and solar are intrinsically a problem. Installing wind and solar in a grid up to levels such that their production as a percent of annualized demand is roughly equivalent to their weighted-average capacity factor makes a degree of sense. But above those levels, perhaps 20%-25% of electricity generation, their economic viability deteriorates rapidly along with grid stability and end-consumer electricity prices. Many developed economies are nearing those levels and problems are starting to crop up.
Further emissions reductions should therefore focus on coal-to-gas switching and nuclear until battery technologies and costs have improved dramatically.