Submitted by Taps Coogan on the 31st of May 2017 to The Sounding Line.
Here at The Sounding Line, we have written about the looming public sector pension fund crisis on a number of occasions (most recently here).
At the core of the problem is a growing difference between the amount of money public sector workers are paying into pension funds and the amount of money that they are receiving in benefits. In stark contrast to private sector retirement plans, employee contributions to public sector pension funds can be as little as 3% for the first 10 years of work and nothing after, while benefits are often as much as 70% of their ending salary, for life. It is self-evident that 3% of one's salary for the first 10 years of one's career is not remotely enough money to support a pension equal to 70% of one's ending salary every year for decades following retirement. Without a tax payer backstop such a retirement plan would be inconceivable. It should come as no surprise that the private sector retirement plans, which are not tax payer backstopped, have much higher employee contributions, lower benefits, and few if any unfunded promises.
Traditionally, the difference between modest contributions and generous benefits has been made up by three factors: increasing number of workers contributing to the pension fund, large investment returns on the pension fund assets, and tax payers. However, all three of these factors appear unable to keep up with growing unfunded pension liabilities.
As the baby boomer generation reaches retirement age, the number of people collecting benefits from their pensions is set to surge while the relative number of young people working is declining. Furthermore, ultra-low interest rates have dramatically lowered pension fund investment returns. According to a recent report from the Hoover Institution, on average, public pensions (state, local and federal employee pension plans) assume that they will achieve a risk free 7.6% return on investment per year, every single year. In an era where actual 'risk free' returns on sovereign debt such as 10 Year US treasuries is below 3%, this 7.6% expectation is 'wildly optimistic,' forcing pension funds to chase returns in ever riskier asset classes.
According to the Hoover Institute, even with this 'wildly optimistic' accounting, US public pension funds are short $1.191 trillion dollars. Worse yet, once the increasing risk profile of pension fund assets is accounted for, and more realistic market values are applied to pension funds' assets, the underfunding problem rockets higher. As the following chart shows, using a more realistic market valuation of pension fund asset values, the amount of additional contributions needed to keep unfunded liabilities at pension funds across the US from rising even further range as high as 39% of state tax revenues (the green indicator is the percent of state tax revenues required)!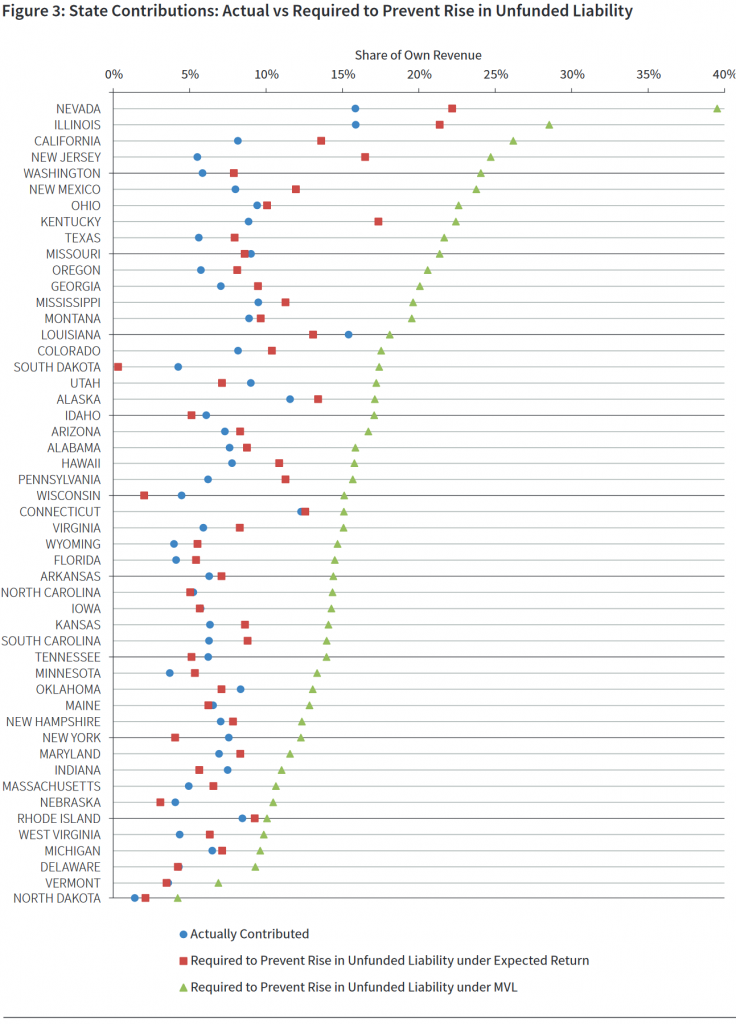 This brings us to the final problem for public sector pension funds. Tax payers may no longer be able to make up the difference. Taxes in many of the worst effected states are already at or near historic highs. Raising tax rates far higher is not guaranteed to significantly raise revenues, but is guaranteed to destroy jobs and slow growth (as Connecticut is already finding out). Furthermore, it is questionable whether it is politically feasible to continue raising taxes on private sector workers in order to fund far more generous retirement benefits for far better paid public sector workers.  Given these realities, and the reality that pensions represent the second largest element of average American household wealth, it is quite hard to conceive of a good ending to this problem for tax payers or for pensioners.
P.S. We recently added email distribution for The Sounding Line. If you would like to be updated via email when we post a new article, please click here. It's free and we won't send any promotional materials.