Submitted by Taps Coogan on the 2nd of June 2017 to The Sounding Line.
Quite a bit has been made of the recent decision by President Trump to withdraw the US from the Paris Climate Accord. However, as is so often now the case, the facts on the issue present a somewhat different story than the prevailing media narrative. As the following chart shows, the US has already reduced its per capita carbon dioxide emissions to the lowest levels since the 1960's (before this chart starts).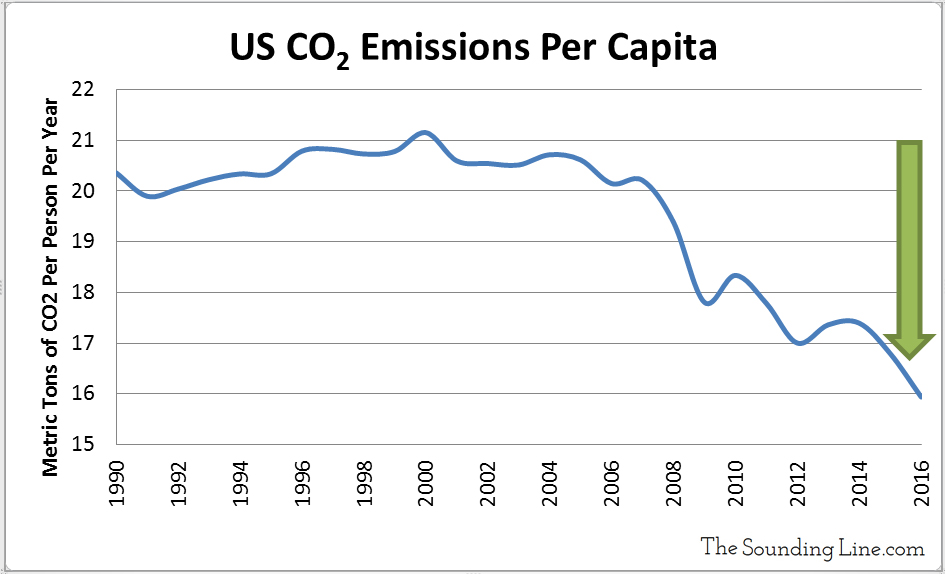 The United States has reduced its per capita carbon emissions by nearly 24% since 2000.  This achievement has occurred and will continue with or without the Paris Agreement. All of the technologies that have made this improvement possible will continue to be adopted in greater quantities for the foreseeable future regardless of the US involvement in the Paris Accord (better fuel economy for automobiles, wind, solar, home insulation, and natural gas replacing coal etc…).
While it is true that US emissions still remain high, global carbon emissions are no longer rising because of the US or Europe (where emissions are falling), but because of those countries where emissions are rising. Such a statement may seem obvious, but it was apparently lost on the creators of the Paris Accord. China is the world's largest and fastest growing emitter of CO2 and now emits more CO­­2 per capita than the EU. The Paris Accord did not put any meaningful restrictions on the growth of emissions from China until 2030, incentivizing them to grow their emissions as much as possible between now and then. The same is true for many of the countries that have the fastest growing emissions.
As the following chart shows, developing economies are now responsible for the majority of carbon emissions and all emissions growth. That is not to say that the developed world does not have an obligation to reduce its emissions. It does. The point is that the US will almost certainly continue to reduce its emissions regardless of its participation in the Paris Accord.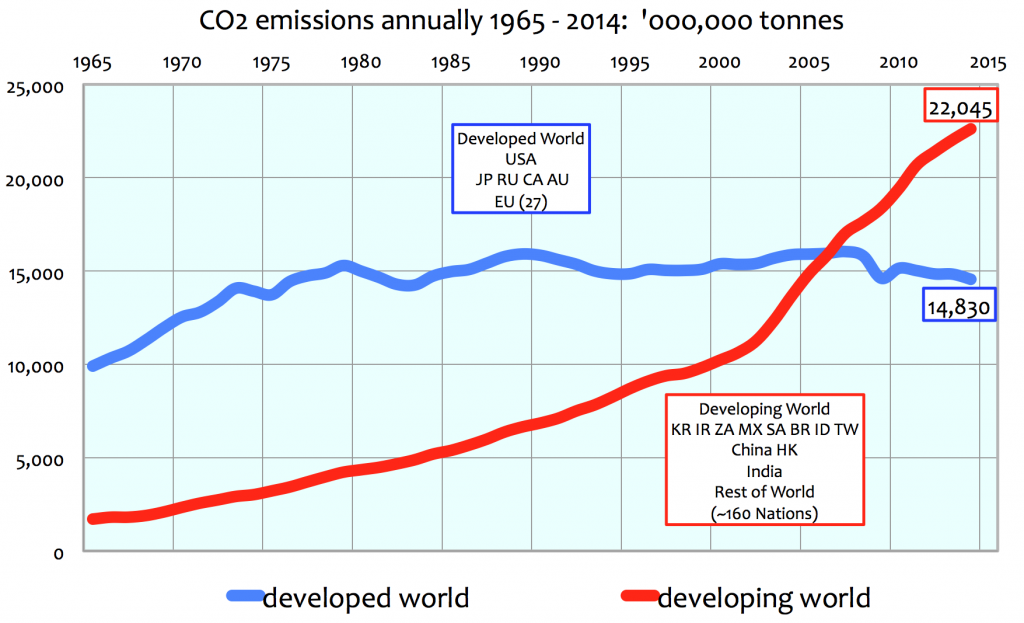 It should come as no shock that other countries will be greatly disappointed by the US's decision to not give them hundreds of billions of dollars and hand over control of its economic policy to its competitors.
Meanwhile, the US will continue to reduce its carbon emissions, as it should, and China likely will not. The Paris Accord was never going to change that dynamic.
P.S. We have added email distribution for The Sounding Line. If you would like to be updated via email when we post a new article, please click here. It's free and we won't send any promotional materials.