Taps Coogan – October 2nd, 2022
Enjoy The Sounding Line? Click here to subscribe for free.
Enjoy The Sounding Line? Click here to subscribe for free.
The following chart, via Win Smart, shows the results of a long running survey of CEO's and their economic outlook (advanced by a quarter) correlated to year-over-year corporate profits.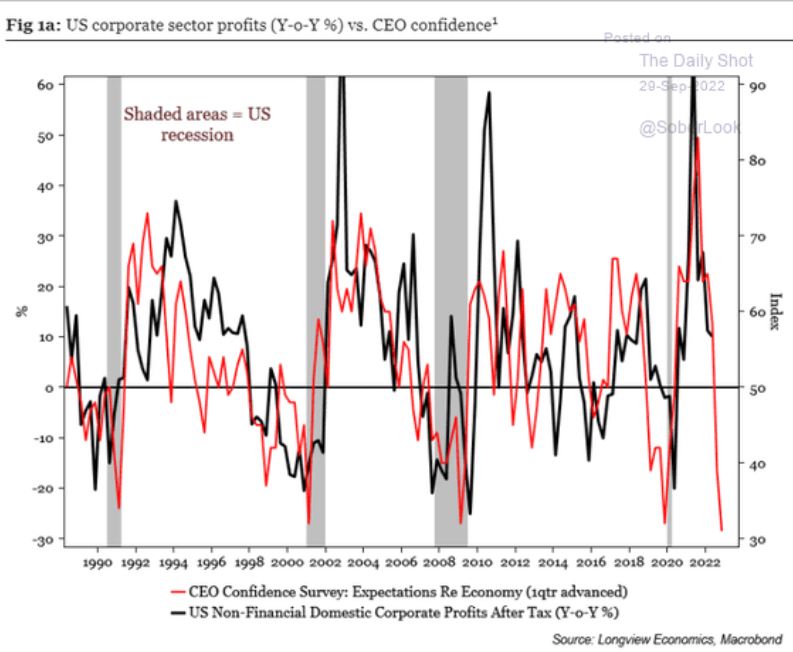 The chart above speaks for itself so we'll only add two things.
First, not only are pessimistic CEO's a bad omen for corporate profits, pessimistic CEOs delay and cancel investments, capital expenditures, hiring, etc… which is how you get a formal recession.
Second, the consensus outlook is badly under-estimating the economic and market risks. If there is to be an 'official' recession next year, as many expect, this year's negative GDP growth and declining markets will likely end up being viewed as contiguous with that recession. So, instead of emphasizing that we aren't in a 'real' recession yet and that we won't be until next year, analysts should be emphasizing that they don't see the economy bottoming until late next year. Imagine where we'd be after another year of this?
For anyone that's paying attention, the Fed is attempting to shrink the monetary base during a quasi-recession after one of the biggest stock bubbles ever. The last time the monetary base shrunk meaningfully during a recession was 1930. This time financial markets are bigger relative to GDP, debt levels are dramatically higher, inflation is problem, and we're in an energy war.
That's not fear-mongering, too many people are bracketing their outlooks with worst case scenarios down 5%-10% from here and a moderate recession. That's simply not a credible worst-case scenarios. That might be a plausible central case.
Markets have gone down a lot in a short period of time. In that kind of environment, bear market rallies can start at any time. However, until there is a moderating of inflation and change in Fed policy, bear market rallies are the best that can be expected.
Would you like to be notified when we publish a new article on The Sounding Line? Click here to subscribe for free.