Taps Coogan – September 10th, 2020
Enjoy The Sounding Line? Click here to subscribe.
With improving US employment numbers of paramount importance amid the economic fallout from the Covid crisis, it's important to remember that US census hiring is now in full swing. That hiring is going to briefly add somewhere in the ballpark of three-quarters of a million badly needed jobs to the economy.
However, the highly temporary nature of those jobs is something to keep in mind, especially considering that signs of recovery in the job market are highly debatable. As the following chart from Wolf Street details, the improvement in the official unemployment rate is largely a statistical artifact of ignoring unemployment claims through the newly established Federal unemployment program as well as seasonal adjustments that the Labor Department has acknowledged to be inaccurate. The number of people claiming state or federal unemployment remains near a record high.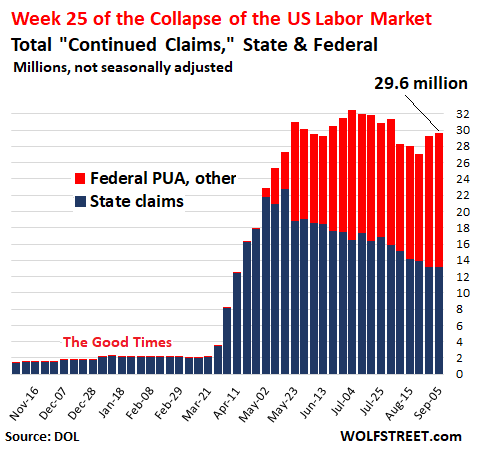 Would you like to be notified when we publish a new article on The Sounding Line? Click here to subscribe for free.