Taps Coogan – April 3rd, 2022
Enjoy The Sounding Line? Click here to subscribe for free.
When China's Evergrande crisis exploded into the mainstream news, many analysts rushed to explain why Evergrande wasn't a systemic risk like Lehman Brothers had been in the US. The narrative went something like this: Evergrande is so high profile and systemically dangerous that the Chinese authorities would never let the situation get out of control.
Seven months later and China's stock market bottomed out down 40% and was down roughly 50% from the 2007 high. Junk bond yields spiked to the highest since the Global Financial crisis and, as the following chart from the Daily Shot via Win Smart highlights, manufacturing PMIs (Purchasing Manager Index) are now deeply negative.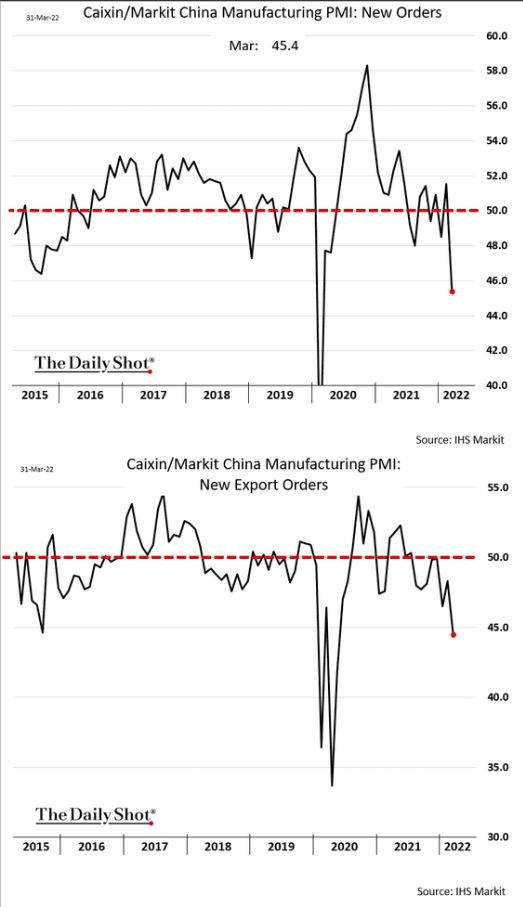 Chinese regulators have the power to manage a crisis, and the narrative surrounding it, in ways that more decentralized economies do not. Lehman was never the right analogy, but make no mistake, China is in the midst of a major economic contraction, the sort of thing that would be called a recession, and a deep one, in any other country.
Would you like to be notified when we publish a new article on The Sounding Line? Click here to subscribe for free.