Submitted by Taps Coogan on the 28th of August 2018 to The Sounding Line.
Enjoy The Sounding Line? Click here to subscribe.
With elevated levels of immigration remaining a contentious issue across the EU and the UK, it is worth reflecting on some relevant charts and data from the UK's Office for National Statistics.
As the following chart shows, over a quarter (28.4%) of all births in England and Wales are now from mothers who were born outside the UK, up from 11.7% when record keeping began in 1969. Over a third (33.9%) of children born in England and Wales now have at least one parent who was born outside the UK.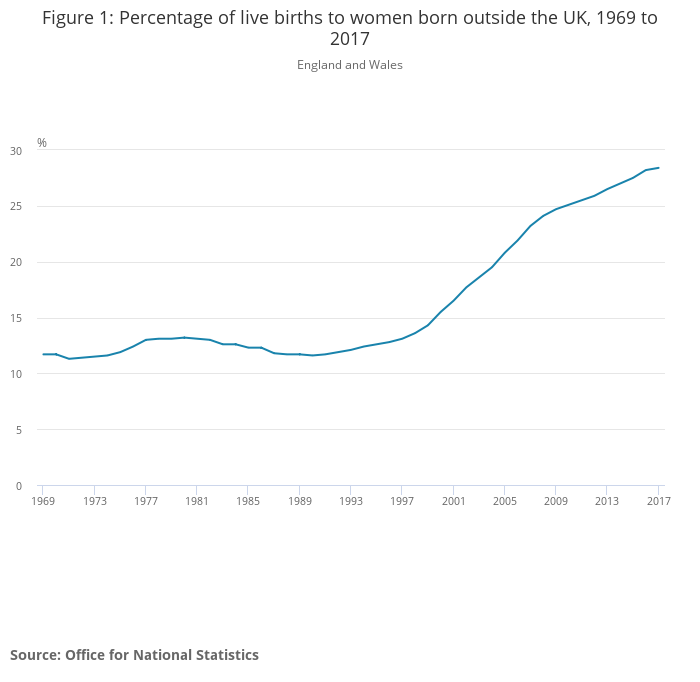 The most common countries of birth for the mothers and fathers of these children are Poland, Pakistan, Romania, and India.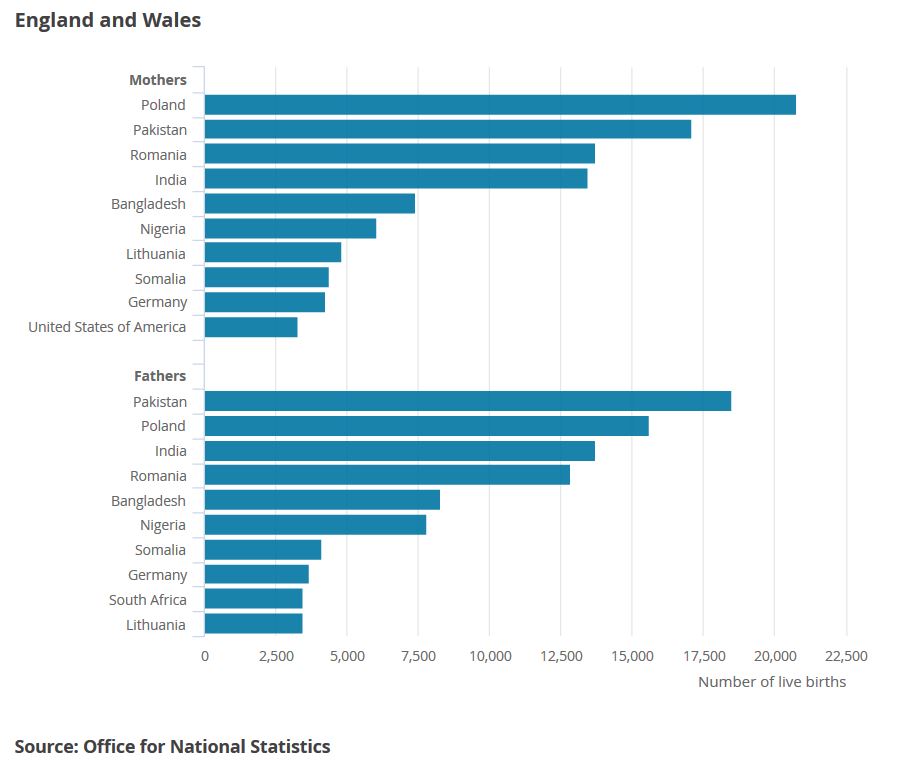 The following map shows the percentage of births to non-UK born mothers for every constituency in England and Wales as of 2017. As the Office for National Statistics notes:
"The English region with the highest percentage of live births to women born outside the UK was London (57.9%); the North East had the lowest (11.4%). London and the North East have consistently had the highest and lowest percentages respectively since 2001. Brent was the local authority of England with the highest percentage of live births born to non-UK-born women (75.7%), while Redcar and Cleveland had the lowest (3.7%)… In Wales, 11.7% of live births were to women born outside the UK in 2017. Of the local authorities in Wales, Cardiff had the highest percentage (27.9%) and Torfaen had the lowest (4.1%)"
The Total Fertility Rate (TFR) of foreign-born mothers remains higher than UK born mothers, though it has decreased to 1.95, the lowest level on record. The number of babies being born to both UK and non-UK born mothers is declining, though more so for UK born mothers. Births to UK born women decreased by 2.7% from 2016 to 2017 versus a 1.7% decrease for non-UK born women.  Of women between the ages of 15 and 44, 23.9% are foreign born.
To view a visualization of immigration into every country in Europe since 2012, click here.
Would you like to be notified when we publish a new article on The Sounding Line? Click here to subscribe for free.