Taps Coogan – June 15th, 2021
Enjoy The Sounding Line? Click here to subscribe.
The story of the US going from world's largest oil importer to a net exporter over the past decade has been well told. At the peak around 2007, oil was responsible for nearly half of the US trade deficit. Today, the US is a slight net exporter.
Despite making such enormous progress on our number one import dependency, the trade deficit has surged to a new record. This has been doubly true since the Covid Pandemic decimated the US economy and US manufacturer's globe trotting single-source just-in-time supply chains. The following chart, from Robin Brooks, captures the dynamic.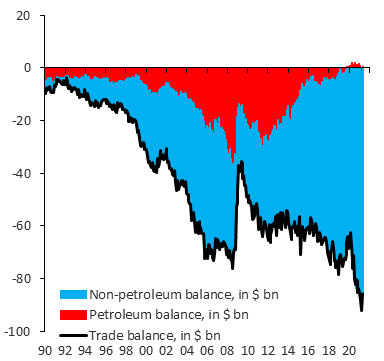 It could be argued that the trade deficit had started to plateau in the Post-Financial Crisis world, and after spiking in 2018 at the height of the trade war, was finally headed in the right direction as the 'Phase One' deal was being negotiated. We'll likely never know. Covid and the associated 'stimulus' spending has exploded the deficit to new highs just as the domestic energy industry comes under renewed pressure to stop producing oil, the ubiquitous commodity that we all use everyday.
Would you like to be notified when we publish a new article on The Sounding Line? Click here to subscribe for free.